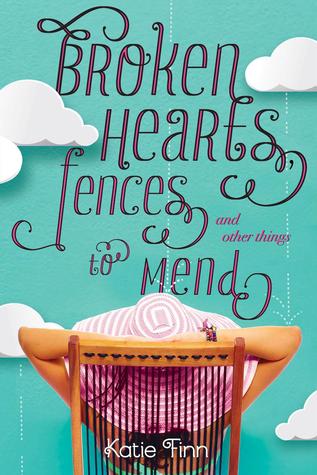 Broken Hearts, Fences, and Other Things to Mend
By Kate Finn Series:
Broken Hearts & Revenge #1
Source
Library
Published by
Feiwel and Friends
on May 13, 2014
Rating:

Cover image and summary from Goodreads:

Hot sun. Blue waves. New romances. Old secrets.

Gemma had her summer all planned out, but it takes a sharp turn when she gets dumped and finds herself back in the Hamptons after a five-year absence.

Being there puts her at risk of bumping into Hallie, her former best friends (that is, before Gemma ruined her life). But people don't hold grudges forever. Do they?

Gemma intends on making amends, but a small case of mistaken identity causes the people she knew years ago—including Hallie and her dreamy brother, Josh—to believe she's someone else. As though the summer wasn't complicated enough already.

Filled with summer sun, boys, and friendships gone sour, Katie Finn's first novel in the Broken Hearts and Revenge series sizzles and delights.
Katie Finn is a pen name of Morgan Matson, who's books I've read and loved. So I thought this book would be a fabulous light summer-y read.
Unfortunately, so much of this story is based on a case of mistaken identity, which I don't think I really enjoy in stories. In this book, Gemma/Sophie is constantly managing her two identities, and as a reader, that makes me super anxious. I just couldn't relax and enjoy the story, especially when I predicted exactly how it would all unravel and blow up in Gemma's face.
I liked Gemma as a character, along with her best friend Sophie, and I liked Gemma's relationship with Josh. But I really couldn't get past my dislike of the mistaken identity to truly enjoy the book.
I may end up checking out the sequel, Revenge, Ice Cream and Other Things Best Served Cold, because I can't see how the whole double-identity thing would be used now that it's blown up in Gemma's face, so I think my anxiety will be significantly lessened and I may be able to lose myself in the story.
I'm on the fence about recommending this book because of the anxiety it gave me, but if you don't get as turned off as I do by mistaken identity plots, you might really enjoy this contemporary YA.