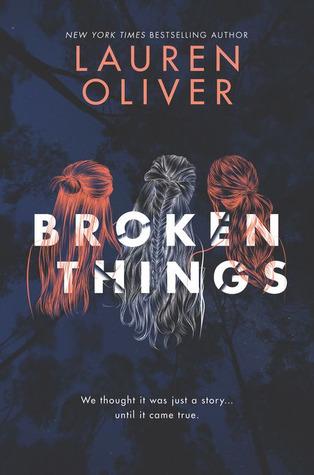 Broken Things
By Lauren Oliver Source
Received from the publisher
Published by
HarperCollins
on October 2, 2018
Received from the publisher in exchange for an honest review. This does not affect my opinion of the book or the content of my review.
Rating:

It's been five years since Summer Marks was brutally murdered in the woods.

Everyone thinks Mia and Brynn killed their best friend. That driven by their obsession with a novel called The Way into Lovelorn the three girls had imagined themselves into the magical world where their fantasies became twisted, even deadly.

The only thing is: they didn't do it.

On the anniversary of Summer's death, a seemingly insignificant discovery resurrects the mystery and pulls Mia and Brynn back together once again. But as the lines begin to blur between past and present and fiction and reality, the girls must confront what really happened in the woods all those years ago—no matter how monstrous.
I've been a big fan of Lauren Oliver's books since I started blogging. I also love a good YA mystery, so as soon as I heard about this book, it jumped up my fall TBR.
I really liked the story (obsession with a novel and a made-up world is definitely something I can relate to…) and the way it was told by going back and forth in time, and seeing Brynn and Mia try to piece together what happened to Summer five years ago was so interesting. And this is one of the few mysteries I've read where I didn't put the pieces together before the end!
I wish I'd gotten to learn more about Summer because the bits and pieces I got from the story made it difficult to get a real sense of what made Brynn and Mia her friends.
Overall, I enjoyed this! It kept me guessing. Recommended for Lauren Oliver fans of course, as well as for readers looking for a good YA mystery!