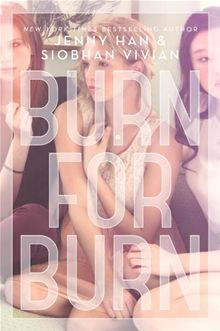 Burn For Burn
By Jenny Han, Siobhan Vivian Series:
Burn For Burn #1
Source
Library
on September 18, 2012
Rating:

Postcard-perfect Jar Island is home to charming tourist shops, pristine beaches, amazing oceanfront homes—and three girls secretly plotting revenge.

KAT is sick and tired of being bullied by her former best friend.

LILLIA has always looked out for her little sister, so when she discovers that one of her guy friends has been secretly hooking up with her, she's going to put a stop to it.

MARY is perpetually haunted by a traumatic event from years past, and the boy who's responsible has yet to get what's coming to him.

None of the girls can act on their revenge fantasies alone without being suspected. But together…anything is possible.

With an alliance in place, there will be no more "I wish I'd said…" or "If I could go back and do things differently..." These girls will show Jar Island that revenge is a dish best enjoyed together.
I was eagerly waiting for this book from the library. I read and enjoyed  The List earlier this year by Siobhan Vivian, and Jenny Han's Summer series has been on my TBR for a while, so I was looking forward to reading something by both authors.
The story revolves around, and in alternating chapters is narrated by, three girls: Kat, Lillia, and Mary. Kat is a tough girl but kind of a loner. Lillia is rich, popular, and best friends with the mean queen bee. Mary is returning to Jar Island after years away. Eventually, the three of them end up hatching a plan to get revenge on someone who has wronged each of them in turn, and arrange to do so in a way that no one will suspect their involvement.
I liked the alternating points of view, seeing things through each of the girls' perspectives. It helped me get to know each character, and also made it really easy to sympathize with each girl for how she was treated/wronged by others.
This book reminded me of the Pretty Little Liars series, in a good way – it was fun to read about people plotting revenge, in a small-town, high school hierarchy setting. I also liked that the girls (well, at least one of them) experiences some doubt and then remorse once the revenge plot is underway.
Lillia was my favourite of the three girls. Her part in the revenge plot came about as she was trying to look out for and protect her younger sister, and it was fun to read about her fancy mansion and friendship with Rennie, her mean girl-best friend. Lillia was more reserved than the other girls, and I identified with her more than with the others.
Kat came across as a tough girl, but as I learned about her history with Lillia and Rennie, I came to see a more vulnerable side to her and liked her more.
Mary was more of a mystery. She used to live on Jar Island, but for reasons not revealed until much later, she left and years later is now returning to live with her aunt. She didn't know Kat or Lillia, but she definitely wanted to be part of a plan to get revenge on Reeve, the popular jock who made her miserable.
This was definitely a fun book, but of course, is the first in a planned trilogy. I have no idea how long I have to wait to read more, which is frustrating because the end, while not exactly a cliffhanger, didn't feel fully resolved. However, I'll definitely be looking for that sequel whenever it comes out!
If you are a fan of the Pretty Little Liars or Lying Game series or the movie Mean Girls, I think this will appeal to you. If you like contemporary YA with revenge, gossip, and high school shenanigans thrown in, I definitely recommend this book.