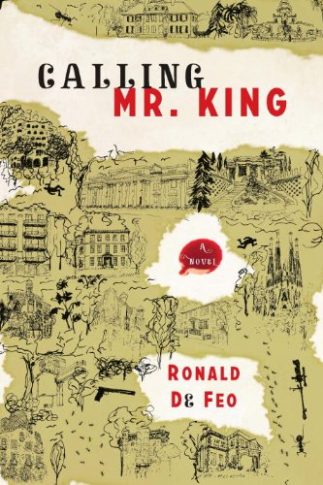 Calling Mr. King
By Ronald De Feo Source
Received from the publisher
Published by
Other Press
on August 30, 2011
Received from the publisher in exchange for an honest review. This does not affect my opinion of the book or the content of my review.
Rating:

Long considered cool, distant, and absolutely reliable, an American-born hit man, working throughout Europe, grows increasingly distracted and begins to develop an unexpected passion for architecture and art while engaged in his deadly profession. Although he welcomes this energizing break from his routine, he comes to realize that it is an unwise trajectory for a man in his business, particularly when he is sent on the most difficult job of his career.  Set in London, Paris, New York, and Barcelona, Calling Mr. King is at once a colorful suspense tale, laced with dark humor, and a psychological self-portrait of a character who is attempting, against the odds, to become someone else.
I really enjoyed this book. The narrator, a professional hit man, seems to have become bored with his line of work. By all accounts he is one of the best at his job, but he develops interests that worry his employer and may interfere with his line of work.
A job in the English countryside awakens an interest in Georgian architecture, and develops into a pursuit of art and architecture. Plot points that I won't give away lead him to New York, where he grew up but has not returned in many years. We learn much about his family and his childhood while he's in New York, which was very interesting. Learning about his youth and how he got started on his current career path made me care about him, and I'm glad De Feo showed us his past. It made me see him as a real person, not just a quirky character, and I became invested in what happened to him.
Soon, he's off to Barcelona for a difficult assignment, where he furthers his intellectual pursuits. It's on this trip that his desires for art and architecture begin to conflict with his professionalism.
It's difficult to get into specifics about what I liked because I really liked everything. The writing was excellent.  De Feo's vivid descriptions painted pictures for me of places I've never been and things I've never seen. In a strange way, it was like watching a movie in my mind – everything seemed so clear.
What I really enjoyed was observing his journey from a man who has never been one for art and literature to a man so consumed by his new interests that it may jeopardize his own life. It was very compelling and endearing.
There is a crucial moment where everything changes for him. I won't give anything away, but what came after was very suspenseful and had me turning the pages of my Kobo as quickly as I could!
As the summary says, this is a story about a man attempting to become someone else. There are many moments where our hit man gives a fake name, presents himself as someone else living a different life, and I wondered how much of it he wished was true. He didn't seem to have regrets about how he had lived his life, but I think he wondered about how things could have been different for him, as I believe many of  us do.
I enjoyed this book from start to finish and I definitely recommend it.