Camp Utopia and the Forgiveness Diet
By Jenny Ruden Source
Received from TLC Book Tours
Published by
Koehler Books
on July 1, 2014
Received from TLC Book Tours in exchange for an honest review. This does not affect my opinion of the book or the content of my review.
Rating:

Cover image and summary from Goodreads:

Sixteen-year-old Baltimore teen Bethany Stern knows the only way out of spending her summer at Camp Utopia, a fat camp in Northern California, is weight-loss. Desperate, she tries The Forgiveness Diet, the latest fad whose infomercial promises that all she has to do is forgive her deadbeat dad, her scandalous sister, and the teenage magician next door and (unrequited) love of her life. But when the diet fails and her camp nemesis delivers the ultimate blow, Bee bids sayonara to Camp-not-Utopian-at-all to begin what she believes will be her "real" summer adventure, only to learn that running away isn't as easy—or as healing—as it seems.

Her wry and honest voice bring humor and poignancy for anyone, fat or thin, tired of hearing "you'd be so pretty if…[insert unwelcome judgment about your appearance from loved one or perfect stranger]."
Camp Utopia and the Forgiveness Diet is a funny, quirky book that I think will appeal to contemporary YA lovers.
The story follows Bethany, in love with T.J. – her best friend and her neighbour – who is signed up by her mother for a weight-loss summer camp. Bethany most certainly does not want to go, and she does not want to be driven there across the country by her sister Jackie and Jackie's not-so-great boyfriend, Doug.
Bethany discovers The Forgiveness Diet via infomercial one night, and at T.J. suggestion, she decides to give it a try. Unfortunately, nothing at Camp Utopia or with the Forgiveness Diet goes as Bethany expected. What follows is a funny story about Bethany coming out of her shell, rebelling, and reconnecting with her long-absent father. She also makes some important discoveries about self-acceptance.
I enjoyed the humour in this book, and really liked the friendship between Bethany and Cambridge, one of her roommates. There was a focus on female friendships, in addition to the book's romance, which I really appreciated. There was also a great message towards the end of the book about being active and eating well without being a slave to the scale.
I really would have liked to read more about the end of Bethany's summer and her return home. I wanted to see what happened with her mother and T.J., for example, but overall, this was a fun, funny read that I would recommend to contemporary YA readers.
Check out the full tour schedule below:
Monday, August 18th: Snowdrop Dreams of Books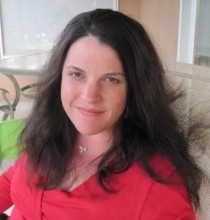 Wednesday, August 20th: Pingwing's Bookshelf
Friday, August 22nd: Bibliotica
Monday, August 25th: Bibliophilia, Please
Wednesday, August 27th: Journey Through the Pages
Thursday, August 28th: Spiced Latte Reads
Friday, August 29th: Sweet Southern Home
You can connect with Jenny Rudin via Twitter and Facebook!