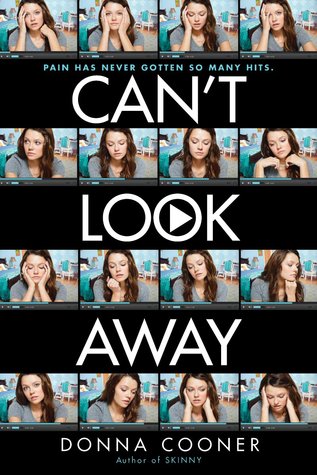 Can't Look Away
By Donna Cooner Source
Received from the publisher at BEA
Published by
Point
on August 26, 2014
Received from the publisher at BEA in exchange for an honest review. This does not affect my opinion of the book or the content of my review.
Rating:

Cover image and summary from Goodreads:

Donna Cooner establishes herself as our own Jodi Picoult in this timely tale of sisters, loss, and redemption.

Torrey Grey is famous. At least, on the internet. Thousands of people watch her popular videos on fashion and beauty. But when Torrey's sister is killed in an accident -- maybe because of Torrey and her videos -- Torrey's perfect world implodes.

Now, strangers online are bashing Torrey. And at her new school, she doesn't know who to trust. Is queen bee Blair only being sweet because of Torrey's internet infamy? What about Raylene, who is decidedly unpopular, but seems accepts Torrey for who she is? And then there's Luis, with his brooding dark eyes, whose family runs the local funeral home. Torrey finds herself drawn to Luis, and his fascinating stories about El dio de los Muertos, the Day of the Dead.

As the Day of the Dead draws near, Torrey will have to really look at her own feelings about death, and life, and everything in between. Can she learn to mourn her sister out of the public eye?
In all honesty, I picked this book from my BEA ARCs bookshelf because it was the shortest of my BEA books with an August release date.
I was interested in reading about Torrey's life in the aftermath of her sister's death – what it did to Torrey's family, how it affected her relationships with old friends and the people at her new school, how it impacted her vlogging – but I never really felt an emotional connection to Torrey and her story.
The writing is good, and the book is a fairly quick read, but the characters felt a bit stereotypical and shallow: there are the popular mean girls Torry wants to befriend; the mysterious hot guy she's attracted to; and the social outcast/misfit who wants to be her friend (Torrey's cousin, in this case). The romance was fine – there was nothing I disliked about it, but again, I felt detached from it and the characters.
Perhaps because I'm a blogger, I found myself really interested in Torrey's vlogging. I liked the quotes at the top of each chapter from Torrey, and that the chapter titles could have been titles from her vlog.
I love sibling stories, so for me, the best parts of this book were when Torrey began to let herself remember Miranda and look back on her sister's life. I felt as though a got a good sense of who Miranda was, and Donna Cooner captured the complex nature of relationships between sisters.
When it comes to contemporary reads, I'm pretty hit and miss, and while Can't Look Away was good, I didn't love it and I don't think it will be one that stays with me. I'd recommend it though for contemporary fans, especially those who like books about family/siblings.