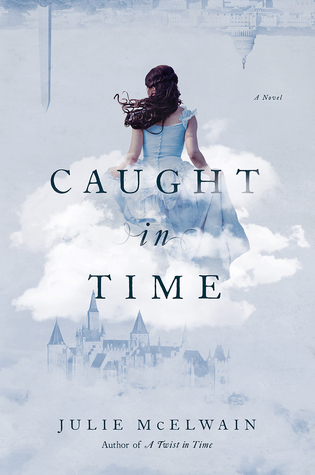 Caught In Time
By Julie McElwain Series:
Kendra Donovan #3
Source
Purchased
Published by
Pegasus Books
on July 3, 2018
Rating:

October 1815: There is only one place Kendra Donovan wants to travel—back to her own time period in the twenty-first century. But since that's not happening, she agrees instead to travel with her new guardian, the Duke of Aldridge, to one of his smaller estates in Lancashire. Their journey takes them through Yorkshire, a region whose breathtaking beauty masks a simmering violence brought on by the Industrial Revolution, which pits mill owner against worker.

When Kendra and the Duke encounter a band of Luddites on a lonely, fog-shrouded road, the Duke informs the authorities in the nearby village of East Dingleford that mischief may have been done at the local mill. However, it isn't just mischief but murder that is discovered, when the body of the mill manager, Mr. Stone, is found brutally bludgeoned to death in his office.

The Constable is certain the radical-minded Luddites committed the murder. One look at the crime scene and Kendra knows they did not, prompting the Duke to shock the locals by volunteering their services to catch the real killer. Joined by lover Alec and Bow Street Runner Sam Kelly, Kendra must sort through the puzzle of Stone's rather unsavory life, picking apart alibies and dissecting carefully created deceptions from a growing list of suspects.

As a special agent for the FBI, Kendra thought she'd encountered every kind of evil. But when another, even more vicious murder rocks East Dingleford, Kendra realizes that they're dealing with a stone-cold killer—one who has a shocking secret that he will do anything to protect.
I've really enjoyed the first two books in this series (A Murder in Time and A Twist in Time). I love the combination of time travel and historical fiction elements, and I like a good mystery, so I was of course excited to read this third installment.
The mystery in this book was just as enjoyable as the first two books. I again enjoyed reading about Kendra having to solve the murder using the tools at hand in her time period, but also using her present-day profiling knowledge. But there was a development at the end of the book that totally took me by surprise, and I love being genuinely surprised in a mystery novel.
The longer Kendra stays in 1815 and the Duke's world, the more she has to grapple with the possibility that she may be there for the rest of her life. I feel like she kind of avoided that in earlier books so I was really interested in the way she started to wrestle with that idea in this book. And part of that is sorting out her true feelings for Alec and the societal pressures and expectations that would be placed on their relationship.
Sam Kelly, the Bow Street Runner, is one of my favourite characters in this series, and I really found myself wishing we got to see more of him in this book.
I think if you've enjoyed the first two books in this series, you'll definitely like this one. And if you like historical fiction and mysteries, this series is one you should check out!