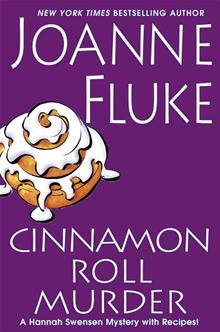 Cinnamon Roll Murder
By Joanne Fluke Series:
Hannah Swenson #15
Source
Purchased
Published by
Kensington Publishing Corporation
on March 1, 2012
Rating:

April is a busy time for Hannah Swensen and her bakery; the warm weather makes folks in Lake Eden, Minnesota go wild for something sweet. When Hannah hears that the Cinnamon Roll Six jazz band will be playing at the town's Weekend Jazz Festival, she's more than happy to bake up a generous supply of their namesake confections to welcome the band to town. Before the festival even begins, tragedy strikes when the tour bus overturns. Among those injured is Buddy Neiman, the band's beloved keyboard player. Buddy's injuries appear minor, until his condition suddenly takes a turn for the worse - as in dead. Hannah's no doctor, but she suspects that the surgical scissors someone plunged into Buddy's chest may have something to do with it. Hannah isn't sure just how she'll unravel the mystery, but one thing's for sure: nothing's sweeter than bringing a killer to justice.
This is the fifteenth book in Joanne Fluke's Hannah Swensen series.
I got about halfway through this book a month back and then got really caught up in some other books I was reading, and sort of forgot to come back to this one. I enjoyed it, as I do all of the Hannah Swensen books, but the mystery of this one didn't really grab me.
What I did like, though, was that the big Norman subplot that's been taking place in the last couple of books is nicely resolved.
After 15 books, what more can I say? These are fun, full of delicious food (with recipes included!), easy to read, and make for a nice change of pace after darker material. I'm definitely a fan of Hannah and her murder mysteries.
If you're a fan of the Hannah Swensen series, you should read this one too.