By Cassandra Clare
Source: Purchased
My Rating: 3.5 / 5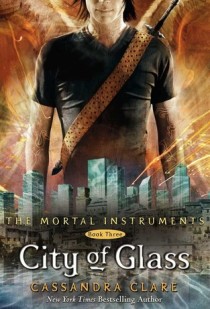 This is the third book in The Mortal Instruments series. Spoiler alert!
Goodreads summary:
To save her mother's life, Clary must travel to the City of Glass, the ancestral home of the Shadowhunters – never mind that entering the city without permission is against the Law, and breaking the Law could mean death. To make things worse, she learns that Jace does not want her there, and Simon has been thrown in prison by the Shadowhunters, who are deeply suspicious of a vampire who can withstand sunlight.

As Clary uncovers more about her family's past, she finds an ally in mysterious Shadowhunter Sebastian. With Valentine mustering the full force of his power to destroy all Shadowhunters forever, their only chance to defeat him is to fight alongside their eternal enemies. But can Downworlders and Shadowhunters put aside their hatred to work together? While Jace realizes exactly how much he's willing to risk for Clary, can she harness her newfound powers to help save the Glass City – whatever the cost?
There were a lot of things I liked about this book, number one being that we finally learn that Clary and Jace are definitely not brother and sister! YAY! I also liked getting to see Alicante and Idris.
There were so many things that really made this book feel like the end of a trilogy, even though I know there are more books in this series: finding out about Jace's family, learning that Clary and Jace aren't related, Clary's mom waking up and ending up with Luke…if this had been the final book, I'd be happy with the way it all ended.
I liked Simon's storyline in this book. I was sad about all the terrible things that happened to him in the last book, but he somehow managed to stay positive and be an important part of the resolution in this book. I think Simon is my favourite. Jace is cool and tough and all Shadowhunter-y, but I've always liked Simon.
Another thing I liked was the way the Downworlders and Shadowhunters came together in the end, and the part that Clary's ability with the runes played. Very cool.
This book resolved and connected so many aspects from the first two books, and I liked being able to see how everything tied together. I thought that was really well done, even if I felt like there was too much info-dump at times.
One of my favourite things about this series is the way Clare has created this fascinating world of Shadownhunters and Downworlders, and everyone is beautiful and strong, and then she throws in these awful, disgusting, frightening demons.  They're so spooky and gross and reading about Idris being over-run with demons was horrifying, in a good way (does that make sense?). Scenes like that make this my favourite book in the series.
I'm not sure why, but as much as I liked this book, and the other two, I've just not been able to fall in love with this series. I feel like I should, since everyone I know who has read these books loves them, but for some reason my feelings for this series are just average. I like the characters and the story, but I simply don't love it the way I love other books. And I know there's nothing wrong with that – as readers, we're all unique and we have our own opinions and thoughts and feelings about what we read – and maybe it was just a case of having really high expectations going into this series, but I couldn't help but come away feeling a bit like I was missing something.
However, I know there are still at least a couple of other books in this series, plus the Infernal Devices series, and I plan to read them all!