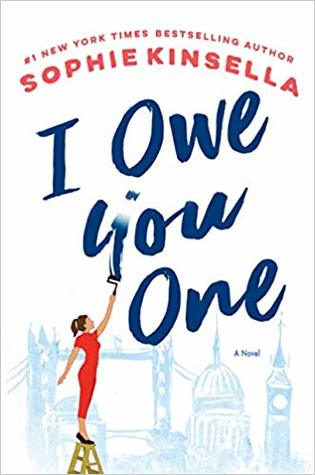 I Owe You One
By Sophie Kinsella Source
Purchased
Published by
Dial Books
on February 5, 2019
Rating:

Fixie Farr has always lived by her father's motto: "Family first." But since her dad passed away, leaving his charming housewares store in the hands of his wife and children, Fixie spends all her time picking up the slack from her siblings instead of striking out on her own. The way Fixie sees it, if she doesn't take care of her father's legacy, who will? It's simply not in her nature to say no to people.

So when a handsome stranger in a coffee shop asks her to watch his laptop for a moment, Fixie not only agrees—she ends up saving it from certain disaster. Turns out the computer's owner is an investment manager. To thank Fixie for her quick thinking, Sebastian scribbles an IOU on a coffee sleeve and attaches his business card. But Fixie laughs it off—she'd never actually claim an IOU from a stranger. Would she?

Then Fixie's childhood crush, Ryan, comes back into her life and his lack of a profession pushes all of Fixie's buttons. She wants nothing for herself—but she'd love Seb to give Ryan a job. And Seb agrees, until the tables are turned once more and a new series of IOUs between Seb and Fixie—from small favors to life-changing moments—ensues. Soon Fixie, Ms. Fixit for everyone else, is torn between her family and the life she really wants. Does she have the courage to take a stand? Will she finally grab the life, and love, she really wants?
I am a HUGE Sophie Kinsella fan. And since I'm home and stressed out due to COVID, I figured it was as good a time as any to read her latest book (as well as re-read many of my previous favourites of hers).
I loved the premise of this book — the idea of increasing IOUs sounded really sweet and funny to me. I also identified with Fixie's incessant need to fix things, and how that usually results in everything going wrong.
But, as much as I love Sophie Kinsella books, I found this one just took too long to get started — it felt like it wasn't until a third of the way into the book that the IOU was used, and it just felt like so much space in the book was taken up by setting up how terrible Fixie's family and boyfriend were. I really like Fixie, and I really liked the romantic lead, but everyone else was just terrible and I got frustrated that so much of the book was devoted to them.
I still enjoyed the book, but wish more time was devoted to the relationship between Fixie and Seb, rather than Fixie's terrible family