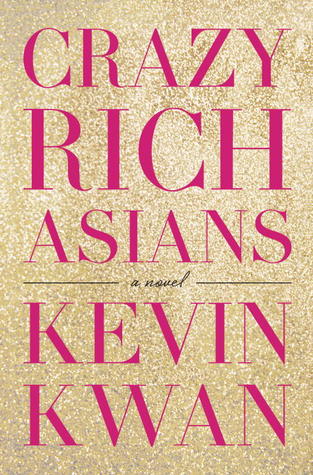 Crazy Rich Asians
By Kevin Kwan Series:
Crazy Rich Asians #1
Source
Purchased
Published by
Doubleday
on June 11, 2013
Rating:

Crazy Rich Asians is the outrageously funny debut novel about three super-rich, pedigreed Chinese families and the gossip, backbiting, and scheming that occurs when the heir to one of the most massive fortunes in Asia brings home his ABC (American-born Chinese) girlfriend to the wedding of the season.

When Rachel Chu agrees to spend the summer in Singapore with her boyfriend, Nicholas Young, she envisions a humble family home, long drives to explore the island, and quality time with the man she might one day marry. What she doesn't know is that Nick's family home happens to look like a palace, that she'll ride in more private planes than cars, and that with one of Asia's most eligible bachelors on her arm, Rachel might as well have a target on her back.

Initiated into a world of dynastic splendor beyond imagination, Rachel meets Astrid, the It Girl of Singapore society; Eddie, whose family practically lives in the pages of the Hong Kong socialite magazines; and Eleanor, Nick's formidable mother, a woman who has very strong feelings about who her son should--and should not--marry. Uproarious, addictive, and filled with jaw-dropping opulence, Crazy Rich Asians is an insider's look at the Asian JetSet; a perfect depiction of the clash between old money and new money; between Overseas Chinese and Mainland Chinese; and a fabulous novel about what it means to be young, in love, and gloriously, crazily rich.
I heard about this book through the Chapters Fiction blog a while back, and when I saw it in a bookstore a couple of weeks ago, I couldn't resist picking up a copy!
I totally loved this book! I felt myself get caught up in it after the first few chapters, and really couldn't put it down until I finished.
Initially, I was a bit overwhelmed by the amount of characters, trying to keep track of who everyone was and how they were all related or connected to each other, but the family tree inside the book really came in handy. Eventually I got to know the characters enough that I didn't need the chart.
I have to say, some of these characters are wealthy beyond what I could ever even imagine. It was so amazing to read about, and who hasn't fantasized about being incredibly rich?
Into this world comes Rachel Chu, girlfriend of Nick Young. Rachel doesn't know about Nick's family and how crazy rich they are, but she's about to find out when he invites her to his friend's wedding back in Singapore.
There are a lot of characters in this book. Some of them think Rachel is just a gold-digging American – I wasn't very fond of those people. Others liked Rachel and tried to help her make a good impression with Nick's family – those were the characters I liked. Clearly then, I was rooting for Rachel. She was intelligent, hard-working, and really loved Nick. She just had no idea what she was getting into. Poor Rachel! Nick really should have prepared her for what she was going to encounter, but I think he was so naive about his family and their riches that it didn't really occur to him that it would be an issue. But I think Rachel handled herself really well in some very tricky situations, and Nick was a good guy.
There were some subplots involving other characters, and even though they took me away from Rachel and Nick's story temporarily, they were still interesting and, because of the characters' relations to each other, their stories all ended up connecting.
Another part of what I enjoyed about this book was reading about all the different food and customs. I love to read stories that take place somewhere I've never been, and there were so many interesting cultural elements to this book that fascinated me.
This book was a really great summer read: light, funny, and super entertaining. I definitely recommend this one!