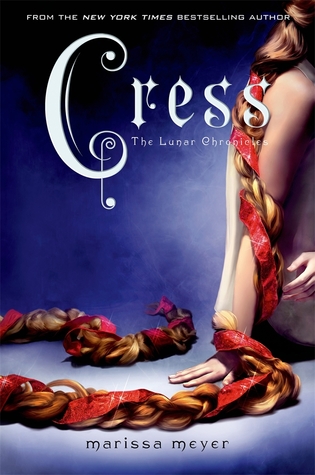 Cress
By Marissa Meyer Series:
The Lunar Chronicles #3
Source
Received from the publisher
Published by
Feiwel and Friends
on February 4, 2014
Received from the publisher in exchange for an honest review. This does not affect my opinion of the book or the content of my review.
Rating:

Cover image and synopsis from Goodreads:

In this third book in the Lunar Chronicles, Cinder and Captain Thorne are fugitives on the run, now with Scarlet and Wolf in tow. Together, they're plotting to overthrow Queen Levana and her army.

Their best hope lies with Cress, a girl imprisoned on a satellite since childhood who's only ever had her netscreens as company. All that screen time has made Cress an excellent hacker. Unfortunately, she's just received orders from Levana to track down Cinder and her handsome accomplice.

When a daring rescue of Cress goes awry, the group is separated. Cress finally has her freedom, but it comes at a higher price. Meanwhile, Queen Levana will let nothing prevent her marriage to Emperor Kai. Cress, Scarlet, and Cinder may not have signed up to save the world, but they may be the only hope the world has.
Minor spoilers
This is the third book in Marissa Meyer's Lunar Chronicles, following Cinder and Scarlet. This was hands down my favourite in the series.
I loved Cress, the character, and I was so happy to see Thorne back! I sort of fell in love with him while reading Scarlet and loved his interactions with Cress! I ship it for sure. I was also really happy to see all the characters I've grown to care about – Cinder, Kai, Scarlet, Wolf, Iko, etc. – back in this book.
My favourite thing about this series is the way that Marissa Meyer connects everything. You can tell that she has carefully planned out the story and the world, and I love seeing the layers of the story reveal themselves. There are connections that go back to the first book, Cinder, and some character motivations are revealed. With each book in the series it becomes more apparent that the author has thought this all through and planned the story out ahead of time, and it's awesome.
As with the rest of the series, I thought this book was really well-paced and so well-written. There were also some great action scenes. I especially loved all the different POVs throughout the story, and while we briefly met Winter, I can't wait to learn more about her! I'm also looking forward to learning more about Jacin, who was in this book too briefly in my opinion!
There were so many interesting developments in this book that I want to read more about, including the coming war between Luna and Earth; the spread of letumosis and its possible evolution. I'm so curious to see how this is wrapped up in the next and final book, Winter (but I have to wait until 2015 to read it, sob!!).
So much was left up in the air at the end of this book: will they rescue Scarlet; how will they defeat Queen Levana; will Cinder rule Luna in the end or will Winter? The stakes are so high and I have no idea how Cinder and the rest of our gang are going to try and take down Levana, but I can't wait to find out!
This series is definitely a must-read, and this is my favourite book so far! If you haven't read this series yet, what are you waiting for?