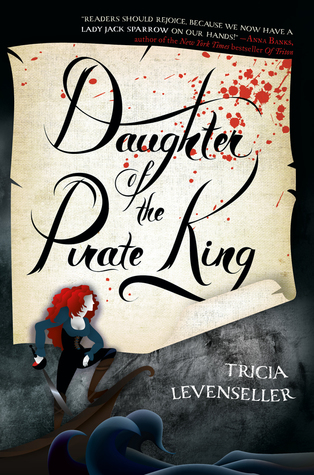 Daughter of the Pirate King
By Tricia Levenseller Series:
Daughter of the Pirate King #1
Source
Purchased
Published by
Feiwel and Friends
on February 28, 2017
Rating:

Cover image and synopsis from Goodreads:

Sent on a mission to retrieve an ancient hidden map—the key to a legendary treasure trove—seventeen-year-old pirate captain Alosa deliberately allows herself to be captured by her enemies, giving her the perfect opportunity to search their ship.

More than a match for the ruthless pirate crew, Alosa has only one thing standing between her and the map: her captor, the unexpectedly clever and unfairly attractive first mate, Riden. But not to worry, for Alosa has a few tricks up her sleeve, and no lone pirate can stop the Daughter of the Pirate King.
I really liked this book! I was so excited to read it when I first read the synopsis, and the blurb on the cover about a female Jack Sparrow was so enticing!
I really enjoyed the action in this book. Alosa was tough and not afraid to show how strong and tough she could be. But I also liked that, as part of her plan, she had to pretend not to be as strong or skilled physically as she really was – because she was a girl, she was seriously underestimated and she was able to use that to her advantage.
At times, as fun as the story was, the plot felt pretty repetitive, especially towards the last half of the book (sneak around, get caught, sneak around more, get caught more, and on it went).
The romance was pretty fun too, and I loved the banter between Alosa and Riden. I am really excited to see where the story goes in the sequel. Recommended!