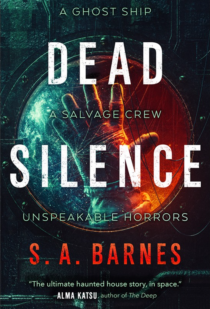 Dead Silence
By S.A. Barnes Source
Purchased
Published by
Tor Nightfire
on February 8, 2022
Rating:

Titanic meets The Shining in S.A. Barnes' Dead Silence, a SF horror novel in which a woman and her crew board a decades-lost luxury cruiser and find the wreckage of a nightmare that hasn't yet ended.

A GHOST SHIP.
A SALVAGE CREW.
UNSPEAKABLE HORRORS.

Claire Kovalik is days away from being unemployed—made obsolete—when her beacon repair crew picks up a strange distress signal. With nothing to lose and no desire to return to Earth, Claire and her team decide to investigate.

What they find at the other end of the signal is a shock: the Aurora, a famous luxury space-liner that vanished on its maiden tour of the solar system more than twenty years ago. A salvage claim like this could set Claire and her crew up for life. But a quick trip through the Aurora reveals something isn't right.

Whispers in the dark. Flickers of movement. Words scrawled in blood. Claire must fight to hold onto her sanity and find out what really happened on the Aurora, before she and her crew meet the same ghastly fate.
This was one of my most-anticipated reads from the moment I heard about this book! The premise was irresistible to me.
This was such a fun read. It was creepy on multiple levels for me, since I find space in general pretty spooky, so when a ghost ship is added to that setting, it totally enhances the spooky, creepy atmosphere!
The story kept my attention from start to finish and I was so desperate to know how it was all going to end! This was a great sci-fi horror story with a fantastic setting, creepy atmosphere, and tension all the way through. I really enjoyed this and definitely recommend it!