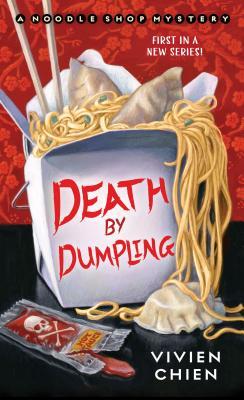 Death By Dumpling
By Vivien Chien Series:
A Noodle Shop Mystery #1
Source
Purchased
Published by
St. Martin's Press
on March 27, 2018
Rating:

The last place Lana Lee thought she would ever end up is back at her family's restaurant. But after a brutal break-up and a dramatic workplace walk-out, she figures that a return to the Cleveland area to help wait tables is her best option for putting her life back together. Even if that means having to put up with her mother, who is dead-set on finding her a husband.

Lana's love life soon becomes yesterday's news once the restaurant's property manager, Mr. Feng, turns up dead―after a delivery of shrimp dumplings from Ho-Lee. But how could this have happened when everyone on staff knew about Mr. Feng's severe, life-threatening shellfish allergy? Now, with the whole restaurant under suspicion for murder and the local media in a feeding frenzy―to say nothing of the gorgeous police detective who keeps turning up for take-out―it's up to Lana to find out who is behind Feng's killer order. . . before her own number is up.
I don't typically read cozy mysteries, but I'd been seeing this pop up a lot lately on my bookish social media, and I was intrigued. This turned out to be a nice change of pace from my usual reading material.
While I enjoyed the mystery and Lana's investigation, I found myself super annoyed at a suspect's reason for not telling police information that could have made them less of a suspect. Overall though, this was a fun story and I liked reading about Lana and her parents' restaurant.
Being the first in the series, I think this book set up a few things to be explored in future books, like a possible love triangle, and I'm definitely interested in checking them out.