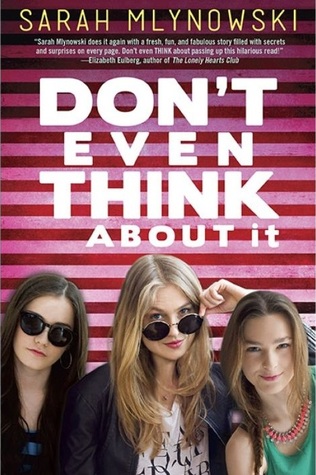 Don't Even Think About It
By Sarah Mlynowski Source
Received from the publisher via Netgalley
on March 11, 2014
Received from the publisher via Netgalley in exchange for an honest review. This does not affect my opinion of the book or the content of my review.
Rating:

From Goodreads:

Contemporary teen fiction with romance, secrets, scandals, and ESP from the author of Ten Things We Did (And Probably Shouldn't Have).

We weren't always like this. We used to be average New York City high school sophomores. Until our homeroom went for flu shots. We were prepared for some side effects. Maybe a headache. Maybe a sore arm. We definitely didn't expect to get telepathic powers. But suddenly we could hear what everyone was thinking. Our friends. Our parents. Our crushes. Now we all know that Tess is in love with her best friend, Teddy. That Mackenzie cheated on Cooper. That, um, Nurse Carmichael used to be a stripper.

Since we've kept our freakish skill a secret, we can sit next to the class brainiac and ace our tests. We can dump our boyfriends right before they dump us. We know what our friends really think of our jeans, our breath, our new bangs. We always know what's coming. Some of us will thrive. Some of us will crack. None of us will ever be the same.
So stop obsessing about your ex. We're always listening.
This book was a really fun, quick read and I think it was just what I needed at the time. Between the misery of winter and a feeling of chaos at work, I was eagerly looking forward to reading something light and funny, and this fit the bill.
I liked the premise of the students developing ESP after getting flu shots, and the early part of the book when they realize what's happened is pretty funny. There were a lot of characters to keep track of though, and while some were featured more heavily in the story than others, I did feel confused at times trying to keep track of who everyone was.
I really liked the narration: rather than being narrated by an individual, it is narrated by a collective 'we'. That was a little different and fun. I also enjoyed the way the ESP/telepathy seemed to enhance the usual teenage issues you read about in contemporary books, e.g. school and relationship troubles, because if someone was worried about something, their peers could hear all their thoughts and concerns.
It was also fun to see the way that being able to hear each others thoughts made them realize that people aren't always what they seem on the outside. People who had never even spoken to each other before started to become friends.
I think that I had difficulty connecting to any the characters because there were so many of them, but it was a pretty fun, fluffy read right when I needed it. The ending leads me to believe that there will be a sequel, and I look forward to reading it. Definitely recommended if you're looking for something fun!