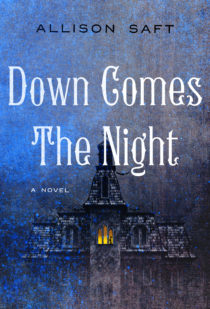 Down Comes The Night
By Allison Saft Source
Received from the publisher
Published by
Wednesday Books
on March 2, 2021
Received from the publisher in exchange for an honest review. This does not affect my opinion of the book or the content of my review.
Rating:

He saw the darkness in her magic. She saw the magic in his darkness.

Wren Southerland's reckless use of magic has cost her everything: she's been dismissed from the Queen's Guard and separated from her best friend—the girl she loves. So when a letter arrives from a reclusive lord, asking Wren to come to his estate, Colwick Hall, to cure his servant from a mysterious illness, she seizes her chance to redeem herself.

The mansion is crumbling, icy winds haunt the caved-in halls, and her eccentric host forbids her from leaving her room after dark. Worse, Wren's patient isn't a servant at all but Hal Cavendish, the infamous Reaper of Vesria and her kingdom's sworn enemy. Hal also came to Colwick Hall for redemption, but the secrets in the estate may lead to both of their deaths.

With sinister forces at work, Wren and Hal realize they'll have to join together if they have any hope of saving their kingdoms. But as Wren circles closer to the nefarious truth behind Hal's illness, they realize they have no escape from the monsters within the mansion. All they have is each other, and a startling desire that could be their downfall.

Allison Saft's Down Comes the Night is a snow-drenched romantic fantasy that keeps you racing through the pages long into the night.

Love makes monsters of us all.
I thought this story started strong for me. I was pulled in right away, and I thought the magic system was super interesting. However, the story really got slow and dragged for me quickly.
I think a big part of the problem for me was that I wasn't interested in the political intrigue, unfortunately. I did like the romance a lot though, and that was the main part of the story that kept my interest.
View Spoiler »
It also seemed strange to me that for all the talk of Byers being such a close friend of Wren and Una's, they didn't actually talk about him once Wren discovered his body and what happened to him. « Hide Spoiler
So overall, I liked this but I didn't love it.