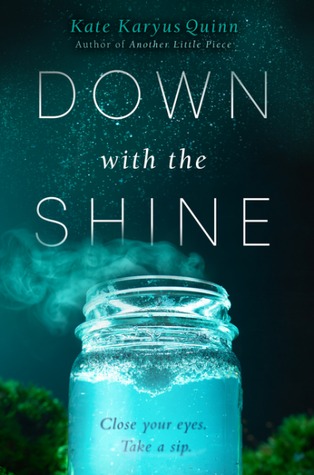 Down With the Shine
By Kate Karyus Quinn Source
Received from the publisher via Edelweiss
Published by
HarperTeen
on April 26, 2016
Received from the publisher via Edelweiss in exchange for an honest review. This does not affect my opinion of the book or the content of my review.
Rating:

Cover image and summary from Goodreads:

Make a wish…

Lennie always thought her uncles' "important family legacy" was good old-fashioned bootlegging. Then she takes some of her uncles' moonshine to Michaela Gordon's annual house party, and finds out just how wrong she was.

At the party, Lennie has everyone make a wish before drinking the shine—it's tradition. She toasts to wishes for bat wings, for balls of steel, for the party to go on forever. Lennie even makes a wish of her own: to bring back her best friend, Dylan, who was murdered six months ago.

The next morning gives Lennie a whole new understanding of the phrase be careful what you wish for—or in her case, be careful what wishes you grant. Because all those wishes Lennie raised a jar of shine to last night? They came true. Most of them came out bad. And once granted, a wish can't be unmade…
I've really enjoyed Kate Karyus Quinn's previous two books, Another Little Piece and (Don't You) Forget About Me, so I was really excited when I learned that she had a new book coming out this year. And I loved the premise of this book: moonshine and wish granting that goes wrong and family problems and the mystery of a friend's death.
I really really wanted to love this book. And for the first few chapters, I was definitely into it. It was fun and wacky and I was enjoying the story. After a certain point though, things felt too muddled and all over the place for me, and I kind of lost interest (but I did enjoy the ending). I felt like this was a story that had major potential for me to love it, but in the end, I didn't.
A less-than-stellar Kate Karyus Quinn book is still a good book though, so even though it isn't my favourite of hers, I'd still recommend it if you've enjoyed her other works.