Earthbound
By Aprilynne Pike
Source: Borrowed
My Rating: 3 / 5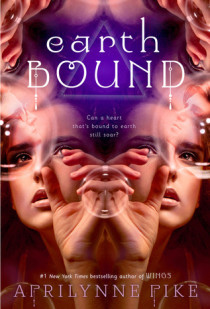 Goodreads summary:
Tavia Michaels is the sole survivor of the plane crash that killed her parents. When she starts to see strange visions of a boy she's never spoken with in real life, she begins to suspect that there's much about her past that she isn't being told.

Tavia immediately searches for answers, desperate to determine why she feels so drawn to a boy she hardly knows. But when Tavia discovers that the aunt and uncle who took her in after her parents' death may have actually been responsible for the plane crash that killed them–and that she may have been the true intended victim–she flees for the safety of Camden, Maine, where the boy she sees in her visions instructs her to go.

Now, Tavia is on the run with no one to trust. No one, that is, except for her best friend and longtime crush, Benson.

Tavia feels torn between the boy who mysteriously comes to her at night and the boy who has been by her side every step of the way. But what Tavia doesn't know is that the world is literally falling apart and that to save it she will have to unite with the boy in her visions. Only problem? To do so would mean rejecting Benson's love. And that's the one thing Tavia Michaels swore she'd never do.
At first I really liked this book. I was drawn into Tavia's story and her life in the aftermath of a terrible plane crash that killed everyone else on board, including her parents, leaving her the only survivor. When strange things began to happen to her, I was immediately intrigued, wanting to read on and learn more. I also liked her friend and crush, Benson. They had a nice rapport and I was happy to let the story take its time unfolding, even though I felt like I had no idea what was happening to Tavia.
However, as things went on, I began to feel that the story dragged on, and I was losing interest. Once the idea behind the Earthbound was explained, and the identity of the mysterious boy that Tavia kept seeing was revealed, I was kind of confused. I had to go back and reread the explanation a couple of times before it sunk in.
I also didn't feel like I ever really connected with any of the characters or that I was very emotionally invested in the story.
Tavia was an interesting character but I never felt like I got to know her. The same goes for Reese and Jay, the distant relatives who have taken her in following the death of her parents, and Quinn, the mystery boy. I did like Benson, what with his cute library-nerdiness, but again, I kept feeling that I was missing something about these characters, which held me back from getting into the story and really caring about them and their well-being. And when some characters died later in the book, I didn't feel anything. I don't like that – I like to feel invested in a story, connected to characters, and to have some sort of reaction to the death of a character other than, "Huh".
I liked the way the book ended though, and where it looks like the story will go in the sequel. That has me interested enough to check that out when the book is released, because I do want to see what happens next.
In the end, I thought this book was good but not great. Even though I didn't love it, I liked it enough that I will be checking out the sequel whenever it's released.
Related Posts