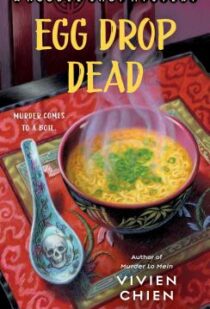 Egg Drop Dead
By Vivien Chien Series:
A Noodle Shop Mystery #5
Source
Purchased
Published by
St. Martin's Press
on February 25, 2020
Rating:

It was supposed to be a fancy, intimate dinner party by the pool. Instead, Lana Lee's first-ever catering event turns into full-course madness when a domestic worker is found dead. Is the party's host Donna Feng, the sweet-and-sour owner of the Asia Village shopping plaza where Ho-Lee is situated, somehow to blame? That's what Lana―whose plate is already plenty full with running the restaurant, pleasing her often-disapproving mother, and fretting over her occasionally-serious boyfriend Detective Adam Trudeau―must find out.

Before the police arrived at the crime scene, Donna had entrusted an odd piece of evidence to Lana: a thumb drive shaped like a terra-cotta soldier. Now it's up to Lana to lead her own investigation, digitally and in real life, into a world of secrets involving Donna's earlier life in China, whether the victim had a dark agenda, and if the killer is still out there. . .and plans to strike again.
I really enjoy this cozy mystery series, and I think this was was a really strong book! The mystery kept me guessing, and I liked Lana's self-awareness in this one and her decision to involve a PI. I really liked that she recognized when things were getting too risky for her to handle all on her own.
Also, the theme of one's past – whether you can run from it, whether it catches up to you – tied in nicely with the appearance of Lana's ex, Warren, who broke her heart sometime before the events of the first book in the series. I've always been curious about him and what went on between him and Lana, and I was happy that she got closure about them and that there was no doubt between her and Adam and how strong their relationship was.
I also liked getting some developments in Megan's life! One of my favourite things about the series is when she and Lana go over a case and try to work through things together.
This was one of my favourite books in the series, and I'm going to start reading the next one right away!