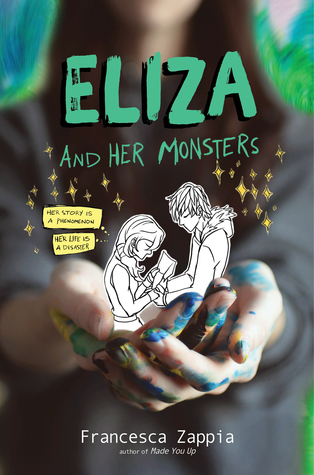 Eliza and Her Monsters
By Francesca Zappia Source
Received from the publisher
Published by
HarperCollins
on May 30, 2017
Received from the publisher in exchange for an honest review. This does not affect my opinion of the book or the content of my review.
Rating:

Cover image and synopsis from Goodreads:

In the real world, Eliza Mirk is shy, weird, and friendless. Online, she's LadyConstellation, the anonymous creator of the wildly popular webcomic Monstrous Sea. Eliza can't imagine enjoying the real world as much as she loves the online one, and she has no desire to try.

Then Wallace Warland, Monstrous Sea's biggest fanfiction writer, transfers to her school. Wallace thinks Eliza is just another fan, and as he draws her out of her shell, she begins to wonder if a life offline might be worthwhile.

But when Eliza's secret is accidentally shared with the world, everything she's built—her story, her relationship with Wallace, and even her sanity—begins to fall apart.
I was drawn to this book as soon as I read the premise! It sounded so good and when I saw that it was recommended for fans of Rainbow Rowell's Fangirl – which I loved – I knew I had to read it!
Eliza's story was something I could relate to right away, not because I'm creative or anything, but because her anxiety was something I understood. Each of us have our own unique experiences, but there was so much of Eliza's that felt familiar to me. And Wallace, too, was someone I could identify with in some ways. And as great as all that is, sometimes reading about someone's anxiety that feels so accurate to me can momentarily plunge me into those feelings.
I also liked the way that fandom was such a big part of this book. Eliza created The Monstrous Sea so she wasn't a fan, but she saw how its fans reacted to her work and how important it was to them. And she was a fan of other things, and as someone who is passionate about what I love (books, Supernatural) and who has, on more than one occasion, turned down a social invitation to stay in and read or watch my favourite show, I loved the way this book portrayed positive aspects of fandom. But it also showed how fandom pressure and expectations can affect creators.
I really liked so much of this book: the story, the characters, the romance…definitely recommended!