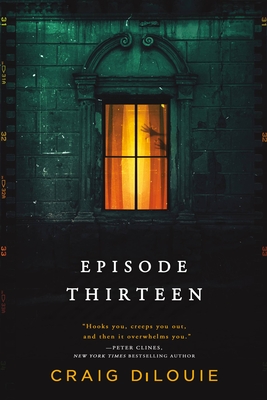 Episode Thirteen
By Craig DiLouie Source
Purchased
Published by
Redhook
on January 24, 2023
Rating:

Fade to Black is the newest hit ghost hunting reality TV show. Led by husband and wife team Matt and Claire Kirklin, it delivers weekly hauntings investigated by a dedicated team of ghost hunting experts. Episode Thirteen takes them to every ghost hunter's holy grail: the Paranormal Research Foundation. This brooding, derelict mansion holds secrets and clues about bizarre experiments that took place there in the 1970s. It's also famously haunted, and the team hopes their scientific techniques and high tech gear will prove it. But as the house begins to reveal itself to them, proof of an afterlife might not be everything Matt dreamed of. A story told in broken pieces, in tapes, journals, and correspondence, this is the story of Episode Thirteen -- and how everything went terribly, horribly wrong.
I love found-footage horror movies, so the premise of this book grabbed my attention right away. I was really interested to see how a novel would pull off a found-footage-style story.
I loved this, and had so much fun reading it. It had a couple of different horror elements that really appeal to me View Spoiler » like the found-footage element I've already mentioned, a haunted house, and then a sort of existential horror towards the end. « Hide Spoiler The epistemological elements of the story mostly worked for me, although at times I thought the texting and emails were a bit clunky, as well as the framing element of the story-within-a-story.
But overall, I was pulled in right away and just needed to know what was going to happen next. I read this book in a day because I just could not put it down!
I enjoyed this a lot, so for those looking for a spookier read, I definitely recommend it!