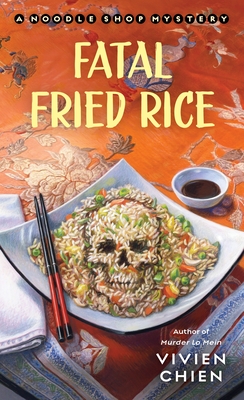 Fatal Fried Rice
By Vivien Chien Series:
A Noodle Shop Mystery #7
Source
Purchased
Published by
St. Martin's Press
on March 9, 2021
Rating:

Lana Lee runs her family's Chinese restaurant in Cleveland's Asia Village like nobody's business. When it comes to actual cooking, however, she's known to be about a step up from boiling rice. So Lana decides to go to culinary school on the sly--and prove that she has what it takes in the kitchen after all. But when course instructor Margo Chan turns up dead after class, Lana suddenly finds herself on the case, frying pan in hand.

Since she was the one who discovered the body, Lana must do double duty in finding the killer and clearing her name. Now, with or without the help of her boyfriend Detective Adam Trudeau, Lana launches her own investigation into Margo's life and mysterious death. Doing so leads her on a wild goose chase to and from the culinary school--and all the way back to the Ho-Lee noodle shop, where the guilty party may be closer than Lana thinks.
This was the kind of read I was in the mood for recently: familiar characters and a cozy mystery. As usual, Vivien Chien delivered with a fun story, a good mystery, and mouthwatering food descriptions!
This time around, things felt different because the murder victim was not someone that Lana knew or had any personal connections to, unlike earlier entries in the series. But what really raised the stakes was that Lana was a suspect! That was kind of a fun twist, but also added tension because Lana needed to solve the mystery in order to clear her name! And really, how many times can you find dead bodies before suspicion turns on you? So I did enjoy that aspect of the story!
There was also a good batch of suspects. There were a lot of people who could have been the culprit, but it was hard for Lana to investigate this one without that personal connection. So that slowed things down a bit too much for me.
I liked seeing Megan, Adam, and Kimmy working on the case with Lana, but I wish we got to see more of Megan and Lana working together.
This wasn't one of my favourites in the series, but still a good read, and now has me excited for book 8, Hot & Sour Suspects, which is out now!