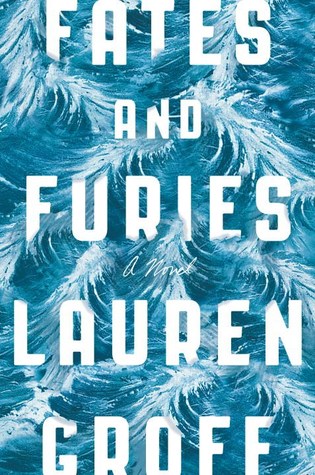 Fates and Furies
By Lauren Groff Source
Purchased
Published by
Riverhead Books
on September 15, 2015
Rating:

Cover image and summary from Goodreads:

Every story has two sides. Every relationship has two perspectives. And sometimes, it turns out, the key to a great marriage is not its truths but its secrets. At the core of this rich, expansive, layered novel, Lauren Groff presents the story of one such marriage over the course of twenty-four years.

At age twenty-two, Lotto and Mathilde are tall, glamorous, madly in love, and destined for greatness. A decade later, their marriage is still the envy of their friends, but with an electric thrill we understand that things are even more complicated and remarkable than they have seemed.
This was my pick for my Sisterhood of the Travelling Book Club's latest book club chat! I had been wanting to read this book since it first came out, because it got a lot of love from many bookish people. It's one of U.S. President Obama's favourite books!
My review is below, followed by some notes from my book club's chat about the book.
Where to even begin trying to talk about this book? I feel like Fates and Furies was so dense and there's so much to think about. Reading it, I was reminded of the way I felt when reading Donna Tartt's The Secret History:  the story and the characters were kind of interesting but also kind of infuriating, and after a while I couldn't put the book down. But I felt like there was so much that went over my head.
But I am always drawn to stories about marriage, particularly where the people married to each other perhaps don't know each other as well as they think they do.
Fates and Furies was an occasionally interesting examination of a marriage, but I couldn't shake the feeling that I was missing something as I read it. I'm left with mixed feelings but I know it will at least result in a great chat with my book club!
So that's my review, written in April after I finished reading. When Kathy, Christy, Kelly, and I were chatting in early June, we all seemed to be in agreement in general about the book: none of us loved it. I don't think we all hated it – although Kathy DNF'd after about 100 pages. She didn't like or hate the characters – worse: she didn't care. We all agreed that not caring or being disinterested in a book/its characters is definitely worse than outright not liking them.
We also all agreed that we felt as though the characters, especially Lotto, were pretentious, but our interest in the story picked up once we got to the second part. However, we felt that it should have been a more interesting story than it turned out to be, given all that happens in the second part of the story.
Overall, I think it's safe to say that this will not be any of our favourite books of the year! Check out Kelly's review here!