By Romily Bernard
Source: Review copy received from publisher via Edelweiss
Publication Date: September 24, 2013
My Rating: 3.5 / 5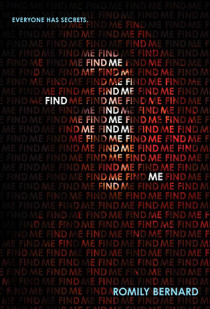 The cover of this book really caught my eye! I love it.
Here is the Goodreads summary:
"Find Me."

These are the words written on Tessa Waye's diary. The diary that ends up with Wick Tate. But Tessa's just been found . . . dead.

Wick has the right computer-hacking skills for the job, but little interest in this perverse game of hide-and-seek. Until her sister Lily is the next target.

Then Griff, trailer-park boy next door and fellow hacker, shows up, intent on helping Wick. Is a happy ending possible with the threat of Wick's deadbeat dad returning, the detective hunting him sniffing around Wick instead, and a killer taunting her at every step?

Foster child. Daughter of a felon. Loner hacker girl. Wick has a bad attitude and sarcasm to spare.

But she's going to find this killer no matter what.

Because it just got personal.
The idea of an MC who is super skilled with computers and is a hacker is probably what got my attention and had me wanting to read this book. I couldn't think of too many (any?) books I've read that had that, and on top of that, the mystery sounded good. Dead girl's diary mysteriously shows up with a note that says Find Me?? I had to know more!
Right away, I felt pulled into the story. It picks up very quickly. I also liked Wick immediately. She's sarcastic and funny and had a great voice.
An important part of the story is that Wick and her younger sister, Lily, are foster children. They are staying with Todd and Bren, foster parents, in a nice part of town. They treat the girls really well and while Lily loves it, Wick has been burned in the past by foster parents and won't let herself get too attached or too comfortable. To make matters worse, there's a local cop who seems certain that Wick knows something about her felon father and won't leave her alone.
The mystery of Tessa Waye's death picks up really quickly, as Wick finds her diary one day with a note inside that says Find Me. As she reads, it becomes clear that Tessa was involved with someone bad for her, and I loved that all of the people I saw as obvious suspects were people that Wick suspected.
I also liked Griffin, the love interest. The way things developed between Griffin and Wick was sweet and funny, especially since Wick hasn't really let anyone get close to her.
I found this book to be a very quick read, but almost too short. I definitely wanted to read more, especially about Wick's father and their relationship. It seemed to have shaped so much of Wick's life and outlook on things, and I wanted to learn more.
I thought this was a well-written, entertaining book and, especially towards the end, it was super tense and suspenseful, and I definitely couldn't put it down until I was finished. However, it did become predictable at the end, and I was disappointed in the killer's identity. Highlight the rest of the paragraph to read why – spoiler alert! I was hoping that Todd, Wick's foster father, wasn't the culprit, even when it became pretty clear to me that he was. Wick already had a shitty father in her life, and I wanted her to end up with parents who loved her and were good people. I was disappointed that she had yet another terrible foster parent, another terrible father figure. End of spoilers.
The way the book ended has me thinking that there will be a sequel. This story was resolved, but it hinted at another story for a future book. I would definitely be interested in reading a sequel!
Overall, I would recommend this book if you're looking for a mystery with a unique protagonist and plenty of suspense.