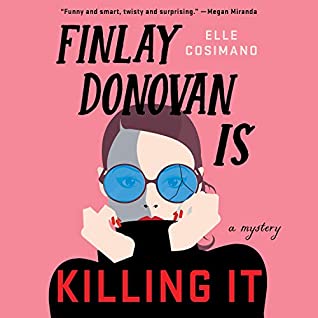 Finlay Donovan Is Killing It
By Elle Cosimano Series:
Finlay Donovan #1
Source
Scribd (audio)
Published by
MacMillan Audio
on February 2, 2021
Rating:

"Getting the job done" for one single mom takes on a whole new meaning in Finlay Donovan Is Killing It, a deliciously witty adult debut - the first in a brilliant new series from YA Edgar Award nominee Elle Cosimano.

Finlay Donovan is killing it...except, she's really not. The new book she promised her literary agent isn't written, her ex-husband fired the nanny without telling her, and this morning she had to send her four-year-old to school with hair duct-taped to her head.

When Finlay's overheard discussing the plot of her new novel with her agent over lunch, she's mistaken for a contract killer and inadvertently accepts an offer to dispose of a problem husband in order to make ends meet...and she soon discovers that crime in real life is a lot more difficult than its fictional counterpart.
This was a really fun, funny romp with a good mystery! This book totally exceeded my expectations. I admit to being a little apprehensive when I read the synopsis, since I don't always find witty or humorous books as funny as they're intended to be, but this was just such a fun read.
Finlay was so easy to root for and I really enjoyed seeing how she dealt with the more and more intense and dangerous situations she found herself in. And I liked the relationship between her and Vero and how it grew into a solid friendship over the course of the book.
I read this as an audiobook and thought the narration was great, for the most part, and kept me engaged in the story the whole time.
This ends in such a way that I am already eagerly anticipating the sequel!