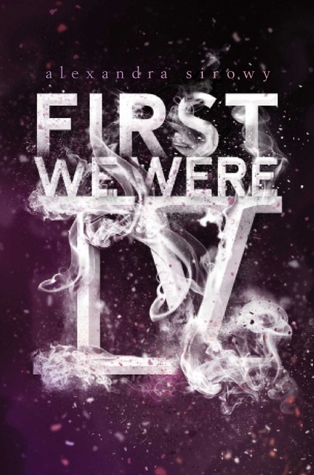 First We Were IV
By Alexandra Sirowy Source
Received from the publisher
Published by
Simon & Schuster Books for Young Readers
on July 25, 2017
Received from the publisher in exchange for an honest review. This does not affect my opinion of the book or the content of my review.
Rating:

It started for pranks, fun, and forever memories.
A secret society – for the four of us.
The rules: Never lie. Never tell. Love each other.
We made the pledge and danced under the blood moon on the meteorite in the orchard. In the spot we found the dead girl five years earlier. And discovered the ancient drawings way before that.
Nothing could break the four of us apart – I thought.
But then, others wanted in. Our seaside town had secrets. History.
We wanted revenge.
We broke the rules. We lied. We told. We loved each other too much, not enough, and in ways we weren't supposed to.
Our invention ratcheted out of control.
What started as a secret society, ended as justice. Revenge. Death. Rebellion.
I read Alexandra Sirowy's The Creeping a few years ago, and I loved it. And I was very intrigued by this synopsis (friendship, secret society, murder), so I decided I had to read it!
I really liked the idea of a secret organization and I loved how tight the bonds of friendship were between Izzy and Graham, Harry, and Vivian. And I liked the idea of the murder mystery from their youth being something that connected them.
So I liked the idea of all those things, but the execution didn't always work for me. By the end, it felt like there was just so much going on. View Spoiler » I was really only invested in what happened to Harry. The reveal of the 'Goldilocks' killer and the way Izzie and Vivian's parents were involved was a bit of a stretch for me. « Hide Spoiler
Generally, I enjoyed this, but my favourite of Alexandra Sirowy's books is still The Creeping.