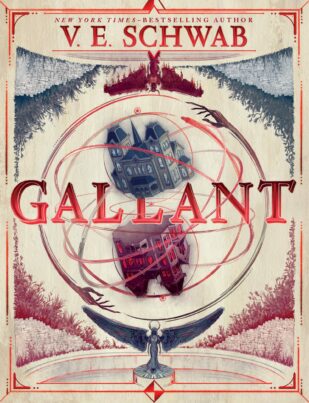 Gallant
By Victoria Schwab Source
Received from the publisher
Published by
Greenwillow Books
on March 1, 2022
Received from the publisher in exchange for an honest review. This does not affect my opinion of the book or the content of my review.
Rating:

Olivia Prior has grown up in Merilance School for girls, and all she has of her past is her mother's journal—which seems to unravel into madness. Then, a letter invites Olivia to come home—to Gallant. Yet when Olivia arrives, no one is expecting her. But Olivia is not about to leave the first place that feels like home, it doesn't matter if her cousin Matthew is hostile or if she sees half-formed ghouls haunting the hallways.

Olivia knows that Gallant is hiding secrets, and she is determined to uncover them. When she crosses a ruined wall at just the right moment, Olivia finds herself in a place that is Gallant—but not. The manor is crumbling, the ghouls are solid, and a mysterious figure rules over all. Now Olivia sees what has unraveled generations of her family, and where her father may have come from.

Olivia has always wanted to belong somewhere, but will she take her place as a Prior, protecting our world against the Master of the House? Or will she take her place beside him?
As Victoria Schwab is my favourite author, Gallant was my most-anticipated 2022 read from the moment I heard about it! I love her stories and the atmosphere she creates, and this synopsis was so intriguing, I couldn't wait to read it! I was thrilled to receive an ARC from HCC Frenzy!
As expected, the writing and imagery were lovely. I was pleasantly surprised by the illustrations included in my ARC. The story was inventive and there were some haunting moments.
I just wanted more from this! I felt like nothing went quite deep enough for me, and it seemed to resolve very quickly. I don't know if that's because this might be middle grade or YA (although I'm not actually sure what the target age / reader is for this) or not, or if I went in with misplaced expectations.
But you can never go wrong reading one of Victoria Schwab's books, and this was lovely and strange in the right ways, and I wound up purchasing a finished copy for my bookshelf.