By Barry Lyga
Source: Purchased
My Rating: 4 / 5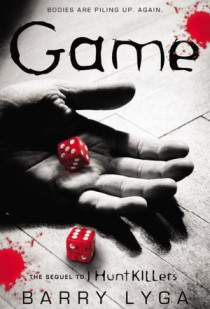 This is the sequel to Lyga's I Hunt Killers, which I read last year and totally loved! Spoiler alert for I Hunt Killers ahead!
Here is the Goodreads summary:
I Hunt Killers introduced the world to Jasper (Jazz) Dent, the son of the world's most infamous serial killer.

When a desperate New York City detective comes knocking on Jazz's door asking for help with a new case, Jazz can't say no. The Hat-Dog Killer has the Big Apple–and its police force running scared with no leads. So Jazz and his girlfriend Connie hop on a plane to the big city and get swept up in a killer's murderous game.

Meanwhile, Jazz's dad Billy is watching…and waiting.
The end of I Hunt Killers saw Jazz's father, notorious serial killer Billy Dent, escape from prison, and this book begins not long afterwards. Someone is killing people in New York and the police and FBI are on the case. Jazz is asked by a detective to come to New York and take a look – maybe his perspective will be helpful in the investigation.
This sets off a chain of events involving Jazz, his girlfriend Connie, best friend Howie, grandmother, aunt, Billy, and the Hat-Dog serial killer. I thought this book was just as exciting, suspenseful, and fun as its predecessor!
I loved the way Connie, Howie, and Jazz were involved in separate yet intertwining stories – Jazz in New York, Howie staying with his aunt and grandmother, and Connie doing everything she can to help Jazz, even if he doesn't know it. My favourite scenes were the ones that had Howie and Connie working together – I love Howie! And I'm also glad that he does not seem to be involved in anything sinister, which I suspected he might be after reading I Hunt Killers.
As in the first book, I loved reading about Jazz's insights into the mind of a serial killer, thanks to life with Billy Dent. It was fascinating and deliciously creepy. And he's trying even harder to make sure he's not like Billy, to remind himself that people matter, that he is not destined to be a monster just because his father is.
The mystery itself involving Hat-Dog was clever and I loved following along with the investigation, seeing how everything unraveled. And boy did things unravel! The way this book ended was awesome, but so so so frustrating because it was a total cliffhanger and I have to wait until the next book comes out to find out what happens next!
I loved the writing in this book and I was happy to see the return, even briefly, of the sheriff, but I do wish there had been more Howie scenes. He's so funny! If you are squeamish, you should know going in that this book can be a bit gruesome, but if you've read I Hunt Killers, you should know that already.
I definitely recommend this book – this series – and now I'll be eagerly waiting for the next installment!