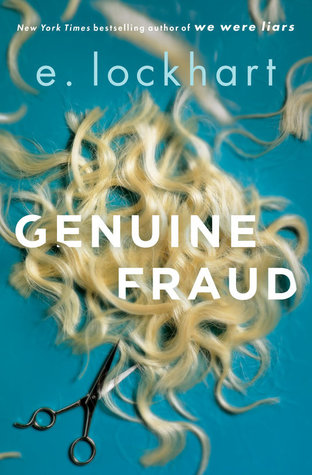 Genuine Fraud
By E. Lockhart Source
Received from the publisher
Published by
Delacorte Press
on September 5, 2017
Received from the publisher in exchange for an honest review. This does not affect my opinion of the book or the content of my review.
Rating:

Cover image and summary from Goodreads:

The story of a young woman whose diabolical smarts are her ticket into a charmed life. But how many times can someone reinvent themselves? You be the judge.

Imogen is a runaway heiress, an orphan, a cook, and a cheat.
Jule is a fighter, a social chameleon, and an athlete.
An intense friendship. A disappearance. A murder, or maybe two.
A bad romance, or maybe three.
Blunt objects, disguises, blood, and chocolate. The American dream, superheroes, spies, and villains.
A girl who refuses to give people what they want from her.
A girl who refuses to be the person she once was.
I was really excited to read this book. I super enjoyed We Were Liars, so I was definitely excited when my friend gave me an ARC, and then the publisher sent me a finished copy.
So. I really wanted to love this. I really really did. But while I definitely thought the format was really interesting (the story is kind of told backwards), I didn't love the book as a whole. I LIKED it. It was interesting and the need to see how the pieces fit together kept me reading past my bedtime, but I felt somewhat emotionally disconnected from the story.
This was a quick read, and I did like it, but I think it's one of those that will not really stand out from all of the other books I've read this year.