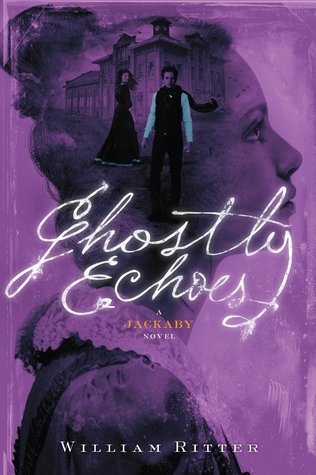 Ghostly Echoes
By William Ritter Series:
Jackaby #3
Source
Received from the publisher via Edelweiss
Published by
Algonquin Young Readers
on August 23, 2016
Received from the publisher via Edelweiss in exchange for an honest review. This does not affect my opinion of the book or the content of my review.
Rating:

Cover image and summary from Goodreads:

Jenny Cavanaugh, the ghostly lady of 926 Augur Lane, has enlisted the investigative services of her fellow residents to solve a decade-old murder—her own. Abigail Rook and her eccentric employer, Detective R. F. Jackaby, dive into the cold case, starting with a search for Jenny's fiancé, who went missing the night she died. But when a new, gruesome murder closely mirrors the events of ten years prior, Abigail and Jackaby realize that Jenny's case isn't so cold after all, and her killer may be far more dangerous than they suspected.

Fantasy and folklore mix with mad science as Abigail's race to unravel the mystery leads her across the cold cobblestones of nineteenth-century New England, down to the mythical underworld, and deep into her colleagues' grim histories to battle the most deadly foe she has ever faced.
I really love this series. It's fun and combines mystery, historical fiction, and supernatural elements – three of my favourite things – into one fantastic series.
I was thrilled that this third book in the series focused more on Jenny's backstory. We learn more about her life, death, and relationship with Jackaby. Additionally, we learn much more about Jackaby himself, including his past and how he came to have 'the sight'. It was so interesting and definitely left me wanting to read more!
Ghostly Echoes does a great job of connecting the mysteries of each book with a larger overarching story for the series. I'm really looking forward to the next book, which, sadly, I've heard is to be the final book in the series. I can't wait to see how everything will come together for these characters I've come to love.
As in the previous two instalments, the writing in this book is just fantastic. There's humour, but there is also a tinge of melancholy, and weaving the supernatural elements into the story occasionally adds  a touch of darkness to it all.
This series is one of my new favourites, and I can't wait to add Ghostly Echoes to my bookshelf. Highly recommended!