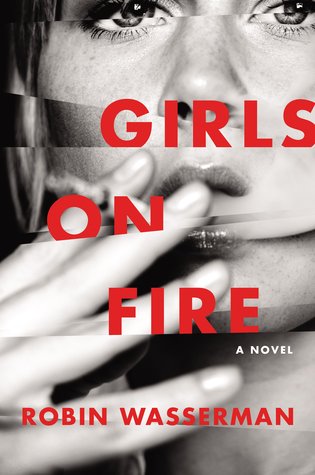 Girls on Fire
By Robin Wasserman Source
Received from the publisher
Published by
Harper
on May 17, 2016
Received from the publisher in exchange for an honest review. This does not affect my opinion of the book or the content of my review.
Rating:

Book cover and summary from Goodreads:

Girls on Fire tells the story of Hannah and Lacey and their obsessive teenage female friendship so passionately violent it bloodies the very sunset its protagonists insist on riding into, together, at any cost. Opening with a suicide whose aftermath brings good girl Hannah together with the town's bad girl, Lacey, the two bring their combined wills to bear on the community in which they live; unconcerned by the mounting discomfort that their lust for chaos and rebellion causes the inhabitants of their parochial small town, they think they are invulnerable.

But Lacey has a secret, about life before her better half, and it's a secret that will change everything...
This was a book that had been on my radar for a while. I was really looking forward to reading Girls on Fire because I love reading stories about friendship, especially friendships that may be toxic and the effects that such a relationship can have on characters.
This was a really good, intense book, and what I wasn't expecting was a bit of mystery. The story opens with the suicide of one of Hannah's classmates, and the details surrounding this death are unraveled slowly as the story progresses. The way everything came together in the end was impressive.
I really liked the way this story was written, with alternating viewpoints throughout the book, but always coming back to Hannah/Dex and Lacey. Their friendship developed quickly and was really intense, becoming obsessive, and it was so interesting to see the way Dex's parents and classmates reacted to this friendship.
I loved the early-90s setting, the writing, and the twists the story took. There were a lot of people keeping a lot of secrets! This was a book that took me a while to get into, but once I did, I didn't want to put it down. It's dark, gritty, and intense, and I'm really looking forward to discussing it with other readers!