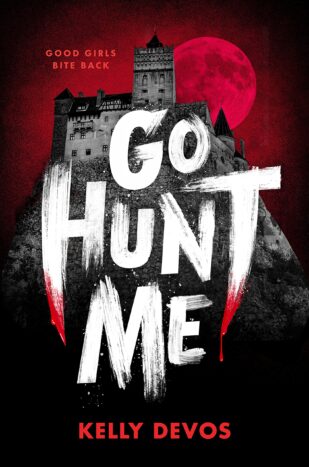 Go Hunt Me
By Kelly deVos Source
Received from the publisher
Published by
Razorbill
on June 14, 2022
Received from the publisher in exchange for an honest review. This does not affect my opinion of the book or the content of my review.
Rating:

For Dracula lovers and fans of Diana Urban's All Your Twisted Secrets, this spine-tingling thriller follows seven horror buffs as their dream trip to a remote Romanian castle turns into a nightmare when they begin to be killed one by one.

Alex Rush is ready for the trip of a lifetime.

She and her friends have made some creepily awesome films together throughout high school, so with only a few months left before they go their separate ways for college, they're determined to make the best one yet: an epic short film that reimagines the story of Dracula, filmed on location at a remote castle in Romania.

But when they get there, it's not quite the majestic setting they planned for. Menacing weapons line the walls, the twisted halls are easy to get lost in, and with no connection to the outside world, the group is unexpectedly off the grid. After just a few hours spent under its roof, Alex and her friends have no trouble imagining how this dark, terrifying castle inspired one of the most enduring horror novels of all time.

Only soon they no longer have to use their imaginations to understand the location's terrifying history—just as they get the film's first shot rolling, one of Alex's friends disappears, and she's nearly certain she saw a cloaked stranger lurking in the shadows. As more members of the group begin to meet an untimely demise, Alex is desperate to stop the bloodshed, even if it means facing a monster she never thought would be let loose.
Before I get into details (which will have a spoiler warning), I just want to say that I was so excited to read this one and really wanted to love it! The synopsis sounded like my kind of book! So I'm disappointed not to have loved it.
Spoiler alert from here on out!
One thing that disappointed me was that, despite the cover art and synopsis, this is not a supernatural/paranormal story. There are no actual vampires or anything, so I feel a little misled. But without vampires, it's still a pretty good set up! A dark, crumbling building in a remote location, no connection to family back home or even the outside world, flickering lights…so where did it go wrong for me?
I loved the setting and the atmosphere, and it seemed like it was trying to say something about patriarchy and sexism, but I think the characters all felt so flat and one dimensional, which made it so hard to be invested in the life or death stakes. It didn't mean anything to me when one of them disappeared or turned up dead, unfortunately.
And the ending…it's the kind of ending that I think I could have appreciated if I thought the rest of the book was stronger, but as it was it sort of came out of nowhere and then left me feeling a bit tricked.
So despite my high hopes, this one unfortunately just wasn't for me.