By Lindsey Leavitt
Source: Purchased
My Rating: 3.5 / 5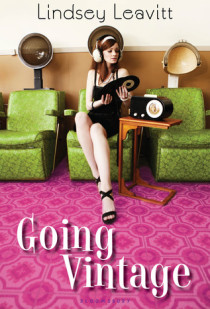 This is a book that I mentioned on my Top Ten Tuesday post about the ten books at the top of my summer TBR list. I was in the mood for something light and cute and this seemed to be the right book.
Goodreads summary:
When Mallory's boyfriend, Jeremy, cheats on her with an online girlfriend, Mallory decides the best way to de-Jeremy her life is to de-modernize things too. Inspired by a list of goals her grandmother made in1962, Mallory swears off technology and returns to a simpler time (when boyfriends couldn't cheat with computer avatars). The List:
1. Run for pep club secretary
2. Host a fancy dinner party/soiree
3. Sew a dress for Homecoming
4. Find a steady
5. Do something dangerous
But simple proves to be crazy-complicated, and the details of the past begin to change Mallory's present. Add in a too-busy grandmother, a sassy sister, and the cute pep-club president–who just happens to be her ex's cousin–and soon Mallory begins to wonder if going vintage is going too far.
This was a fun book, just what I needed at the time. The story starts with Mallory discovering her boyfriend Jeremy's betrayal with a girl he met online. After coming across a to-do list that her grandmother made in 1962, Mallory decides that life was simpler before technological advances like Facebook and text messaging existed, and that she's 'going vintage'.
I loved the premise. It was quirky and definitely appealed to me, as did the colourful book cover. It took a while, though, for me to really get into the book. I don't know if it's because I felt that I was in a bit of a slump and wasn't really drawn to anything, or if it was something about the book itself, but by the time I got halfway through the story, I was really into it and finished it quickly after that.
A lot of what I enjoyed about this book was seeing Mallory start to figure out her own identity, who she was outside of her relationship with Jeremy. Once she was single, she suddenly had a lot of free time to fill up. I also liked examining the way technology made people seem so connected – Mallory felt out of the loop after a weekend without e-mail, internet, or her cell phone – but what about the quality of those connections? I love my Twitter, some Tumblr, texting, the internet in general – but it was definitely interesting to think about, and in fact I experimented by trying to go out one weekend without my cell phone at all. Guess what? The world didn't end when I couldn't check my e-mail while in line at the grocery store! It really did make me think about how often I mindlessly reach for my phone when I'm already doing something, like reading or watching television, and I'm really going to try and do that less. It's nice to sit back and disconnect sometimes!
I found Mallory to be a very easy to like girl. She was quirky and really funny, and her sister was another great character. I was less interested in the goings-on of Mallory's parents and their relationship troubles, but enjoyed the subplot involving Mallory's grandmother.
Oh, and Oliver! Jeremy's cousin who helps Mallory start the pep club – I loved him! He was nice, funny, and seemed to get Mallory in a way that Jeremy didn't. I totally crushed on him.
I think it's safe to say, without spoiling anything, that by the end of the book Mallory learns that teenagers in the sixties didn't necessarily have things any easier than today's teenagers. People always have problems, issues, obstacles to overcome, no matter what period of time they're living in.
Overall, this was a really fun book that popped onto my Kobo at just the right time! I totally recommend this if you're looking for a quick, fun read with a happy ending.