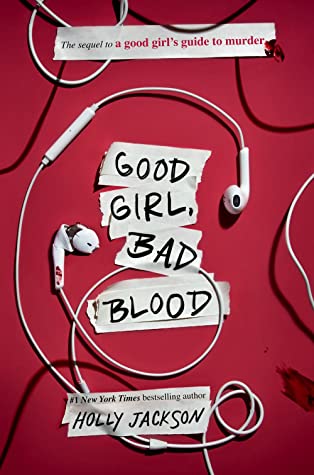 Good Girl, Bad Blood
By Holly Jackson Source
Received from the publisher
Published by
Delacorte Press
on March 2, 2021
Received from the publisher in exchange for an honest review. This does not affect my opinion of the book or the content of my review.
Rating:

Pip is not a detective anymore.

With the help of Ravi Singh, she released a true-crime podcast about the murder case they solved together last year. The podcast has gone viral, yet Pip insists her investigating days are behind her.

But she will have to break that promise when someone she knows goes missing. Jamie Reynolds has disappeared, on the very same night the town hosted a memorial for the sixth-year anniversary of the deaths of Andie Bell and Sal Singh.

The police won't do anything about it. And if they won't look for Jamie then Pip will, uncovering more of her town's dark secrets along the way... and this time everyone is listening. But will she find him before it's too late?
I loved the first book in this series, A Good Girl's Guide to Murder, when I read it last year so I was really looking forward to this sequel!
Pip was still dealing with the repercussions of events in AGGGtM, and her struggle with her investigation and what it turned up, and how people saw her afterwards, was a really interesting aspect of this story that made her feel more real to me.
And the mystery in this book was really well done! I had so much fun trying to untangle it, and as in AGGGtM, I thought the red herrings were credible, and author Holly Jackson stayed one step ahead of me and kept me guessing the whole time. Every time I had a suspicion or a guess, so did Pip, and it was fun to follow along on another investigation with her.
I really hope there will be another book in this series! I really like the way the book incorporates the podcast and interview transcripts and Pip's notes. I could not put this down! Highly recommended!