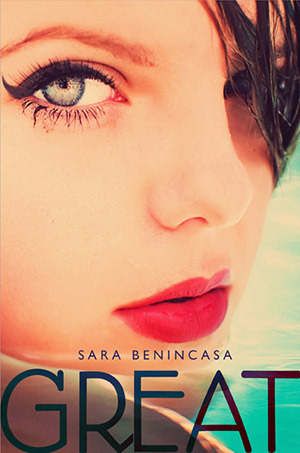 Great
By Sara Benincasa Source
Received from the publisher via Edelweiss
Published by
HarperTeen
on April 8, 2014
Received from the publisher via Edelweiss in exchange for an honest review. This does not affect my opinion of the book or the content of my review.
Rating:

Cover image and summary from Goodreads:

In Sara Benincasa's contemporary retelling of The Great Gatsby, a teenage girl becomes entangled in the drama of a Hamptons social circle, only to be implicated in a tragedy that shakes the summer community.

Everyone loves a good scandal.

Naomi Rye usually dreads spending the summer with her socialite mother in East Hampton. This year is no different. She sticks out like a sore thumb among the teenagers who have been summering (a verb only the very rich use) together for years. But Naomi finds herself captivated by her mysterious next-door neighbor, Jacinta. Jacinta has her own reason for drawing close to Naomi-to meet the beautiful and untouchable Delilah Fairweather. But Jacinta's carefully constructed world is hiding something huge, a secret that could undo everything. And Naomi must decide how far she is willing to be pulled into this web of lies and deception before she is unable to escape.

Based on a beloved classic and steeped in Sara Benincasa's darkly comic voice, Great has all the drama, glitz, and romance with a terrific modern (and scandalous) twist to enthrall readers.
I was initially on the fence about reading this, but a blogger whose reviews I follow really liked it, which sparked my interest.
It's probably been a decade since I read, or at least tried to read, The Great Gatsby (I can't remember if I actually finished it), and I've seen a couple of film adaptations. Without being overly familiar with the story, I was still able to pick out things that I remembered from the book, which was fun.
I liked the way the author updated the story to modern day and changed the gender of the protagonists so that the book was about two girls in the Hamptons and all of the rich people surrounding them. This was definitely an entertaining, quick read but it just didn't engage me on a deeper level.
This would make a fun summer read. It certainly had me wishing this long winter would end and bring on the sunshine!