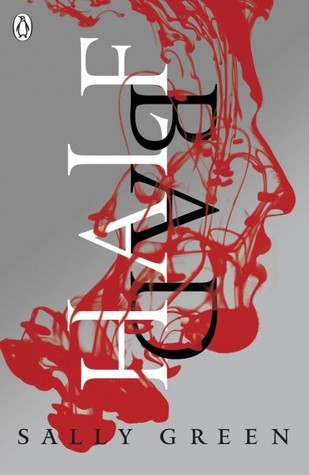 Half Bad
By Sally Green Series:
Half Bad #1
Source
Purchased
Published by
Viking Juvenile
on March 4, 2014
Rating:

Cover image and summary from Goodreads:

Half Bad by Sally Green is a breathtaking debut novel about one boy's struggle for survival in a hidden society of witches.

You can't read, can't write, but you heal fast, even for a witch.

You get sick if you stay indoors after dark.

You hate White Witches but love Annalise, who is one.

You've been kept in a cage since you were fourteen.

All you've got to do is escape and find Mercury, the Black Witch who eats boys. And do that before your seventeenth birthday.

Easy.
I had wanted to read this book for months, and was excited when it ended up being a book club pick. Although I couldn't really tell you what I expected, I know that this was not at all what I expected the book to be. To be honest, it took me some time to get into the story, but the more I read, the more I liked it.
I sympathized with Nathan right away – he's locked in a cage, for crying out loud – but he was complicated. There was a lot to think about as far as nature versus nurture. I wondered about which one has a stronger influence on us (if either does), and about the myriad moments that make us who we are. Nathan was deemed bad without having done anything, despite being raised in a home of White witches, all because of the identity of a father he's never met. My heart really did go out to Nathan at times, because he suffered some terrible cruelties at the hands of others. He couldn't control who his father was or what his father had done, but Nathan was punished for it over and over.
While I sympathized with Nathan, I especially liked Arran, his older brother, and his friend Gabriel who appeared in the last half of the story.
I definitely want to read the second book, Half Wild, due out sometime in 2015. If you're looking for something a bit dark with a paranormal element, I recommend this book.