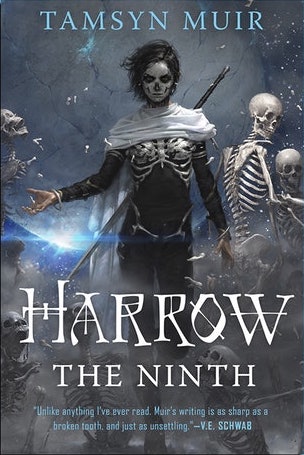 Harrow the Ninth
By Tamsyn Muir Series:
The Locked Tomb #2
Source
Purchased
Published by
Tor
on August 4, 2020
Rating:

She answered the Emperor's call.

She arrived with her arts, her wits, and her only friend.

In victory, her world has turned to ash.

After rocking the cosmos with her deathly debut, Tamsyn Muir continues the story of the penumbral Ninth House in Harrow the Ninth, a mind-twisting puzzle box of mystery, murder, magic, and mayhem. Nothing is as it seems in the halls of the Emperor, and the fate of the galaxy rests on one woman's shoulders.

Harrowhark Nonagesimus, last necromancer of the Ninth House, has been drafted by her Emperor to fight an unwinnable war. Side-by-side with a detested rival, Harrow must perfect her skills and become an angel of undeath — but her health is failing, her sword makes her nauseous, and even her mind is threatening to betray her.

Sealed in the gothic gloom of the Emperor's Mithraeum with three unfriendly teachers, hunted by the mad ghost of a murdered planet, Harrow must confront two unwelcome questions: is somebody trying to kill her? And if they succeeded, would the universe be better off?
This is the sequel to one of my favourite books read last year, Gideon the Ninth. I had just reread that prior to reading this, and I'm glad I did because I think I would otherwise have felt even more offbalance and confused than I did!
And even having reread book one right before picking this up, I still felt a bit lost. But that is on purpose – I knew as I was reading that something was off, and I was so determined to solve it!
I think there was so much happening in terms of Harrow's guilt and grief, and while I loved all of that, I also just loved the mythology and necromantic theory! Despite feeling much heavier to me than Gideon the Ninth, I still had so much fun reading this book because I just love Harrow and the world that author Tamsyn Muir has created.
I managed to figure out (or accurately guess) a couple of things prior to some reveals, but it certainly didn't lessen the impact for me, and in fact, part of the fun for me was trying to read between the lines or figure out what was truly going on.
And then my jaw dropped when I got to the very end, and I am majorly looking forward to reading book three! I have no idea where the story will go from here, but I cannot wait to find out (and I will definitely need to reread Harrow the Ninth before reading book three)!