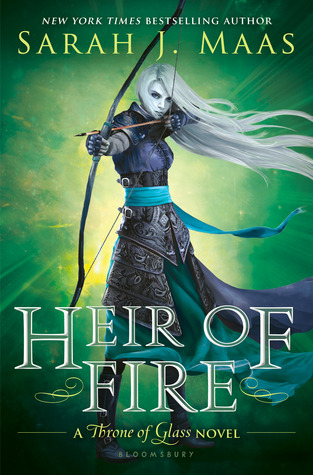 Heir of Fire
By Sarah J. Maas Series:
Throne of Glass #3
Source
Purchased
Published by
Bloomsbury USA Children's
on September 2, 2014
Rating:

Cover image and summary from Goodreads:

Lost and broken, Celaena Sardothien's only thought is to avenge the savage death of her dearest friend: as the King of Adarlan's Assassin, she is bound to serve this tyrant, but he will pay for what he did. Any hope Celaena has of destroying the king lies in answers to be found in Wendlyn. Sacrificing his future, Chaol, the Captain of the King's Guard, has sent Celaena there to protect her, but her darkest demons lay in that same place. If she can overcome them, she will be Adarlan's biggest threat – and his own toughest enemy.

While Celaena learns of her true destiny, and the eyes of Erilea are on Wendlyn, a brutal and beastly force is preparing to take to the skies. Will Celaena find the strength not only to win her own battles, but to fight a war that could pit her loyalties to her own people against those she has grown to love?
I love this series and was so eager to read this book! (See my reviews for Throne of Glass and Crown of Midnight)  I think this is pretty spoiler-free but I'm putting up a spoiler warning just in case.
First of all, I feel like it took me forever to read this book! According to my Goodreads, I started reading this on September 23, and didn't finish it until October 29. It doesn't usually take me that long to read a book, but it took me so long to really get into this. Perhaps that's because the characters are separated at the start of the book, and spend pretty much the whole book that way.
Once I got into it though, I was really eager to keep reading. There was some romance in this book, and sadly not between the characters I was hoping for, but all of the terrific action and great writing I've come to expect from Sarah J. Maas were present.
I loved the new characters introduced in this book. They rounded out the world of the story and gave me new perspectives on not only the world and events I already knew, but on where I think the story is heading.
Overall, if you're a fan of this series, this book is a really great installment (even if you do find it slow to start, as I did). I love the direction the story seems to be taking and I'm sooo looking forward to book four!