By Sarah J. Maas
Source: Purchased
My Rating: 4.5 / 5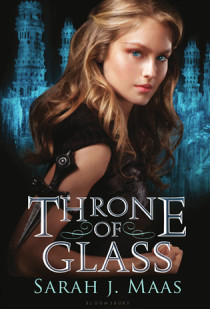 Wow I've been meaning to read this one for a long time. I kept hearing such good things about it, and with the sequel coming out in August, I figured I'd give it a read.
Here is the Goodreads summary:
After serving out a year of hard labor in the salt mines of Endovier for her crimes, 18-year-old assassin Celaena Sardothien is dragged before the Crown Prince. Prince Dorian offers her her freedom on one condition: she must act as his champion in a competition to find a new royal assassin. Her opponents are men-thieves and assassins and warriors from across the empire, each sponsored by a member of the king's council. If she beats her opponents in a series of eliminations, she'll serve the kingdom for three years and then be granted her freedom.

Celaena finds her training sessions with the captain of the guard, Westfall, challenging and exhilarating. But she's bored stiff by court life. Things get a little more interesting when the prince starts to show interest in her… but it's the gruff Captain Westfall who seems to understand her best.

Then one of the other contestants turns up dead… quickly followed by another.

Can Celaena figure out who the killer is before she becomes a victim? As the young assassin investigates, her search leads her to discover a greater destiny than she could possibly have imagined.
I loved this book! I loved the action, the story, and the characters. I even enjoyed the love triangle – can you believe it? This was one book where the triangle worked for me.
The story sucked me in right away, with Celaena being taken from the salt mines of Endovier to meet with Prince Dorian. As the infamous Aderlan Assassin, Caelana has been serving a sentence of hard labour, but is offered the possibility of freedom if she is able to win the King's contest and become his royal assassin.
Celaena is escorted to meet the prince by Chaol, the captain of the guard. I liked him right away, and I loved the snark between Chaol and Celaena! He is responsible for training her for the competition, and I loved seeing the tone of their interactions change over the course of the book. I love Chaol! And then there's Prince Dorian. He's a great character too. He wants to be a good son and a good leader, but his relationship with his stern father seems strained. Then there's his mother, the queen, who is trying to encourage him to marry one of the eligible ladies of the court soon. He is intrigued by Celaena, and their dialogue was really snappy and fun to read.
Of the two, I prefer Chaol and hope that's who Celaena ends up with when all is said and done! But I really enjoyed reading the story with no idea of how things were going to unfold and who she was going to fall for. I could see and understand her interest in and feelings for both men, and what was even more interesting was that Chaol and Prince Dorian are close friends. There was no enmity or hard feelings between the two of them.
Celaena herself is fascinating, and although we learn her back story over the course of the book, I definitely believe there's more to uncover. I have a theory that I'll keep to myself for now though and see how things play out in the sequel. I love Celaena's strength and wit, and the way she has managed to survive all of the terrible things that she's experienced in her young life.
The action scenes in this book were great! The training with Chaol, then the preparations for the competition, then the competition itself: it was all so exciting and well-paced! And on top of the action and romance, the murder mystery was so interesting.
I really loved this book. It had it all: romance, intrigue, action, adventure, great dialogue, likeable characters, magic, monsters…I had to pre-order the sequel, Crown of Midnight, as soon as I finished this! It's one of my favourite books I've read this year and I cannot wait to find out what happens next!