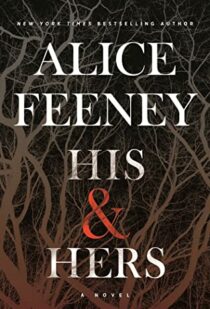 His & Hers
By Alice Feeney Source
Purchased
Published by
Flatiron Books
on July 28, 2020
Rating:

When a woman is murdered in Blackdown, a quintessentially British village, newsreader Anna Andrews is reluctant to cover the case. Detective Jack Harper is suspicious of her involvement, until he becomes a suspect in his own murder investigation. Someone isn't telling the truth, and some secrets are worth killing to keep.

His & Hers is a twisty, smart, psychological thriller. A gripping tale of suspense, told by expertly-drawn narrators that will keep readers guessing until the very end.
I love a good thriller, and I'd had my eye on this one for some time. Fall felt like a good time to jump into this story.
His & Hers was definitely a page-turner, and kept me reading late into the night. But this was a story that felt entirely plot-based and not a single character had any depth for me, which meant nothing really resonated emotionally for me.
I also didn't love the 'reveal', View Spoiler » that the villains (who were also the victims in the present day) were teenage girls who basically prostituted out other girls and abused each other and manipulated everyone around them – and then of course there was a final twist revealing who the killer was. « Hide Spoiler
This was definitely a twisty read, but it felt like too many twists just for the sake of being twisty to me! That said, I cannot deny that I couldn't put the book down, so if you are looking for a quick read that will hook you from the first chapter, think about checking this one out.