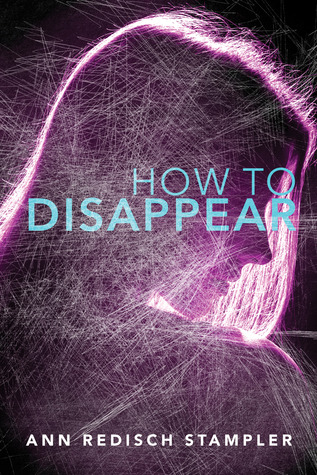 How to Disappear
By Ann Redisch Stampler Source
Received from the publisher
Published by
Simon Pulse
on June 14, 2016
Received from the publisher in exchange for an honest review. This does not affect my opinion of the book or the content of my review.
Rating:

Cover image and summary from Goodreads:

This electric cross-country thriller follows the game of cat and mouse between a girl on the run from a murder she witnessed—or committed?—and the boy who's sent to kill her.

Nicolette Holland is the girl everyone likes. Up for adventure. Loyal to a fault. And she's pretty sure she can get away with anything...until a young woman is brutally murdered in the woods near Nicolette's house. Which is why she has to disappear.

Jack Manx has always been the stand-up guy with the killer last name. But straight A's and athletic trophies can't make people forget that his father was a hit man and his brother is doing time for armed assault. Just when Jack is about to graduate from his Las Vegas high school and head east for college, his brother pulls him into the family business with inescapable instructions: find this ruthless Nicolette Holland and get rid of her. Or else Jack and everyone he loves will pay the price.

As Nicolette and Jack race to outsmart each other, tensions—and attractions—run high. Told in alternating voices, this tightly plotted mystery and tense love story challenges our assumptions about right and wrong, guilt and innocence, truth and lies.
I've definitely been on a mystery/thriller kick the past few weeks, so I was really excited to read this one.
Right away, I enjoyed the dual narrative, told in alternating chapters from Nicolette and Jack's perspectives. My ARC had their chapters printed in different font, which was a nice touch and very helpful for keeping track of which character's chapter I was reading (because I inevitably get a little confused when reading books with more than one narrator – it's just the way it is).
I don't know if it's because I was in the mood for more of a thriller than this book turned out to be, or if I just didn't connect with the book for some other reason, but I didn't enjoy this book as much as I wanted to. I really enjoyed the first part of the book, with the cat-and-mouse element, but the second half of the book didn't live up to the premise, for me. I was expecting more of a mystery – who killed girl in the woods near Nicolette's house, and why? Did Nicolette have any part to play in it? – than I ended up getting, overall.
However, I'm definitely a fan of Ann Stampler's writing, and while at times the book felt alternately a bit too slow and then a bit too rushed, I really really liked the end. So a strong start and a strong finish, with a not-so-strong in between, for me.
Still a recommended read!