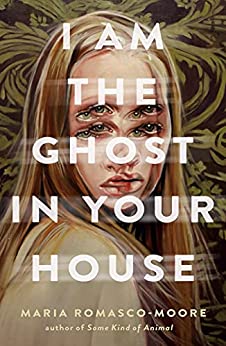 I Am The Ghost In Your House
By Maria Romasco-Moore Source
Received from the publisher
Published by
Delacorte Press
on April 19, 2022
Received from the publisher in exchange for an honest review. This does not affect my opinion of the book or the content of my review.
Rating:

Pie is the ghost in your house.
She is not dead, she is invisible.
The way she looks changes depending on what is behind her. A girl of glass. A girl who is a window. If she stands in front of floral wallpaper she is full of roses.
For Pie's entire life it's been Pie and her mother. Just the two of them, traveling across America. They have slept in trains, in mattress stores, and on the bare ground. They have probably slept in your house.
But Pie is lonely. And now, at seventeen, her mother's given her a gift. The choice of the next city they will go to. And Pie knows exactly where she wants to go. Pittsburgh—where she fell in love with a girl who she plans to find once again. And this time she will reveal herself.
Only how can anyone love an invisible girl?

A magnificent story of love, and friendship, and learning to see yourself in a world based on appearances, I Am the Ghost in Your House is a brilliant reflection on the importance of how much more there is to our world than what meets the eye.
I was really intrigued by the title, concept, and cover of this book! And I was drawn in very quickly to Pie's story. I wanted to know all about her invisibility: how did it happen? how did it work? How did she and her mother get by in the world?
This was a neat story, and I couldn't really predict where it was headed. I liked the found family / friendship aspect, as well as Pie's actual family drama, and Pie's response to making friends tugged on my heartstrings, since it revealed just how lonely her life had been.
For all I liked about this book, it felt somewhat all over the place at times. While I thought there was initially some urgency to Pie's mother's situation, that moved into the background for a time, with Pie's crush and developing friendships taking centre stage. But then something would happen regarding Pie's mom and jolt me out of one focus to another. Then there was a reveal View Spoiler »that Pie's father knew about other invisible people « Hide Spoiler, which took over. It was super interesting, but I kept feeling the focus pulled around.
Still, this was a good, very intriguing read. Recommended!