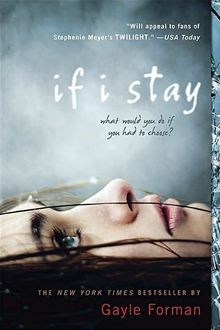 If I Stay
By Gayle Forman Series:
If I Stay #1
Source
Purchased
Published by
Dutton Books for Young Readers
on April 2, 2009
Rating:

Choices. Seventeen-year-old Mia is faced with some tough ones: Stay true to her first love—music—even if it means losing her boyfriend and leaving her family and friends behind?

Then one February morning Mia goes for a drive with her family, and in an instant, everything changes. Suddenly, all the choices are gone, except one. And it's the only one that matters.

If I Stay is a heartachingly beautiful book about the power of love, the true meaning of family, and the choices we all make.
I feel like everyone has read this book already, so I'm a little late to the party. I didn't know too much about this book going in, but I knew that people seem to really love this book, so I was looking forward to reading.
This book pretty much takes place over the course of one day, with flashbacks mixed in as Mia reflects on her life as her body is taken from the car wreck to the hospital.
This was a quick, good read. I loved the way the story was told, incorporating memories and flashbacks, letting the reader get to know Mia better, as well as her family, friend Kim, and boyfriend Adam. It really helped to draw me into the story.
I loved the characters in this book. Mia's parents seemed so cool and fun, and I could see how close Mia was her parents and younger brother. The tragic accident made this book so bittersweet, because every time I read about one of Mia's memories of her family, I would smile but then remember what happened to them and feel sad. There is a lot of SAD in this book, but it's mixed in with a lot of love and joy, and I loved that Mia's family was so important to her. Sometimes I read YA with the absent-parent / absent-family scenario, and it was nice to read something where not only is the main character's relationship with her family super important to her, but that relationship is central to the story.
Reading about Mia and Adam's relationship made me smile, and I enjoyed its progression to a mature, honest relationship. However, by the time of the car accident at the beginning of the story, Mia and Adam are approaching a crossroad: as it says in the book, while music is what brought them together, it may also be what pulls them apart.
I don't tend to get too emotional while reading a book, but I finished this one on my lunch break at work and surprised myself by having to fight back some tears! The way the story ended was satisfying on one hand, but on the other, it still left a lot of my questions unanswered. There is a sequel, Where She Went, and I really want to read it!
While there may be a bit of a supernatural/paranormal aspect to this book, it really felt like a contemporary YA read to me, and I definitely recommend it.