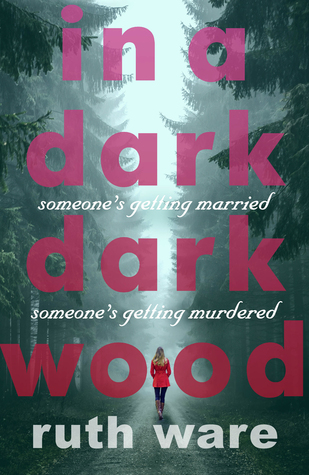 In a Dark, Dark Wood
By Ruth Ware Source
Purchased
Published by
Harvill Secker
on July 30, 2015
Rating:

Cover image and summary from Goodreads:

In a dark, dark wood

Nora hasn't seen Clare for ten years. Not since Nora walked out of school one day and never went back.

There was a dark, dark house

Until, out of the blue, an invitation to Clare's hen do arrives. Is this a chance for Nora to finally put her past behind her?

And in the dark, dark house there was a dark, dark room

But something goes wrong. Very wrong.

And in the dark, dark room....

Some things can't stay secret for ever.
I picked this up to read when I was home sick one day, hoping a mystery would keep my mind occupied and off of feeling sick.
I finished this book in one day – it was certainly a page-turner! And while I enjoyed it overall, I did find it kind of uneven at times.
I really enjoyed the first half of the story. With the hint of some kind of secret in her past, Nora's invitation to Clare's hen do (bachelorette party) began to create a sense of dread. This feeling increased as the weekend went on, with more people arriving, and hints at something in Nora's past that only Clare knew about. There was so much tension in this first part of the story!
However, once a certain event took place, the story slowed down and my attention waned. The mystery was not too surprising to me, when all was revealed, but it was fun to see it all unravel. Still, the tension and suspense, for me, were mostly contained to the first part of the book.
Like I said though, I finished the book in one day, and would certainly be interested in reading more by Ruth Ware. Recommended!