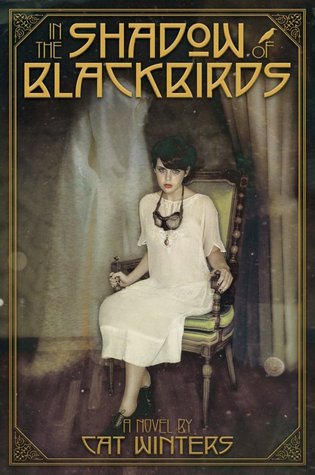 In The Shadow of Blackbirds
By Cat Winters Source
Purchased
Published by
Amulet Books
on April 2, 2013
Rating:

Cover image and summary from Goodreads:

In 1918, the world seems on the verge of apocalypse. Americans roam the streets in gauze masks to ward off the deadly Spanish influenza, and the government ships young men to the front lines of a brutal war, creating an atmosphere of fear and confusion. Sixteen-year-old Mary Shelley Black watches as desperate mourners flock to séances and spirit photographers for comfort, but she herself has never believed in ghosts. During her bleakest moment, however, she's forced to rethink her entire way of looking at life and death, for her first love—a boy who died in battle—returns in spirit form. But what does he want from her?

Featuring haunting archival early-twentieth-century photographs, this is a tense, romantic story set in a past that is eerily like our own time.
This was a book club pick, but was also a book I'd been wanting to read ever since I first heard about. I was not able to make it to book club in November, unfortunately, and I'm sad to have missed out on what was likely a fun discussion, because this is a wonderful book!
The atmosphere in this book was nice and spooky, thanks to the fear and uncertainty created by the war and the flu. It seemed that in the face of all that death, people were willing to believe in some some sort of afterlife, and there were a lot of entrepreneurs trying to cash in on that belief. One such attempt was spirit photography, where some photographers would manipulate photos to make it look like there were ghosts or spirits captured in the photo. The author made sparse but effective use of real photos from the time period, including some spirit photos, and they were so fascinating to look at. In fact, I wanted to see more photos!
In the midst of this, Mary Shelley Black comes to live with her aunt while her father is in trouble with the law for his anti-war sentiments. She reconnects with Stephen, a childhood friend who becomes something more to Mary Shelley, before he goes off to war. Sadly, Stephen dies but following a dark moment of desperation and despair, he begins to appear to Mary Shelley, seemingly in pain and fear.
I loved the mystery of what happened to Stephen and why he appeared to Mary Shelley. I was actually surprised and not able to predict everything in this story! I totally love when that happens! And Mary Shelley was such a strong, intelligent girl, and I got the impression that her interest in science set her apart from the girls of her day.
Although it took me a couple of chapters to get into this book, it was so so good. If you like historical fiction with a supernatural twist/mystery, you should definitely pick this up!