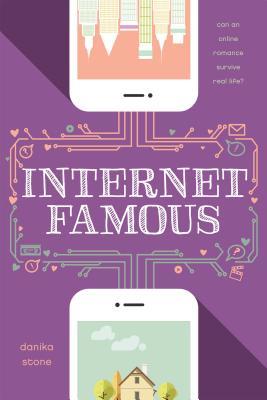 Internet Famous
By Danika Stone Source
Purchased
Published by
Swoon Reads
on June 6, 2017
Rating:

Cover image and synopsis from Goodreads:

High school senior and internet sensation Madison Nakama seems to have it all: a happy family, good grades, and a massive online following for her pop-culture blog. But when her mother suddenly abandons the family, Madi finds herself struggling to keep up with all of her commitments.

Fandom to the rescue! As her online fans band together to help, an online/offline flirtation sparks with Laurent, a French exchange student. Their internet romance—played out in the comments section of her MadLibs blog—attracts the attention of an internet troll who threatens the separation of Madi's real and online personas. With her carefully constructed life unraveling, Madi must uncover the hacker's identity before he can do any more damage, or risk losing the people she loves the most… Laurent included.
I really enjoyed Danika Stone's All the Feels and was definitely interested in reading this book when I heard about it.
Internet Famous was a very cute, quick read. This was fun, and just the sort of book I was in the mood for at the time. I really liked the romance, and I liked reading about Maddie's blogging. And anything fandom-related intrigues me!
I think this is a book that will appeal to contemporary YA fans. Recommended, and I'm looking forward to reading more from Danika Stone!