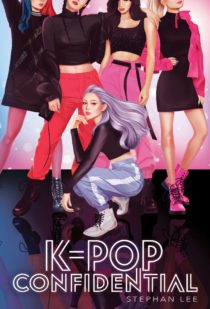 K-pop Confidential
By Stephan Lee Series:
K-pop Confidential #1
Source
Purchased
Published by
Point
on September 15, 2020
Rating:

Candace Park knows a lot about playing a role. For most of her life, she's been playing the role of the quiet Korean girl who takes all AP classes and plays a classical instrument, keeping her dreams of stardom-and her obsession with SLK, K-pop's top boyband-to herself. She doesn't see how a regular girl like her could possibly become one of those K-pop goddesses she sees on YouTube. Even though she can sing. Like, really sing.

So when Candace secretly enters a global audition held by SLK's music label, the last thing she expects is to actually get a coveted spot in their trainee program. And convincing her strict parents to let her to go is all but impossible ... although it's nothing compared to what comes next.

Under the strict supervision of her instructors at the label's headquarters in Seoul, Candace must perfect her performance skills to within an inch of her life, learn to speak Korean fluently, and navigate the complex hierarchies of her fellow trainees, all while following the strict rules of the industry. Rule number one? NO DATING, which becomes impossible to follow when she meets a dreamy boy trainee. And in the all-out battle to debut, Candace is in danger of planting herself in the middle of a scandal lighting up the K-pop fandom around the world.

If she doesn't have what it takes to become a perfect, hair-flipping K-pop idol, what will that mean for her family, who have sacrificed everything to give her the chance? And is a spot in the most hyped K-pop girl group of all time really worth risking her friendships, her future, and everything she believes in?
I like k-pop and have been having a lot of fun reading books about/featuring k-pop and idols! This book was one that I had been meaning to read for ages, since I think I bought it shortly after its release date. And my expectations were really high!
I loved this book so much! One of my favourites aspects of the story was that it didn't gloss over the trainee system's hardships. It showed how grueling and taxing the trainee system was, and just how hard these trainees work – some for several years before getting a chance to debut (if they're even chosen). Everything the trainees (and idols) do is meant to look fun and effortless, with a smile on their faces, but it's so much work and pressure. This story really showed not only the excitement and joy of performing, but it also showed the isolation and unhealthy standards put on the idols and trainees by the industry.
I admit that I wasn't totally sold on the romance in the story. I just didn't enjoy that aspect of things as much as I did the dynamics between Candace and her fellow trainees, and her relationship with her mom. And speaking of the dynamics between Candace and the other girls, there was a lot to take in! It was fun seeing her develop friendships with some of the girls, but of course she also made enemies – which I expected, since the other girls were basically her rivals for a spot to be chosen for the new girl group. But it was really tense and sometimes stressful to read about the lengths some of the girls would go to either to steal the spotlight or hurt another girl's performance.
Things got wild by the end and there were some twists and turns that took me by surprise, but then I felt like the book ended abruptly. Thankfully, when I finished the book I knew there was an upcoming sequel – otherwise I might not have been able to handle the way things ended! And of course I've already pre-ordered book two!
This was a great read and I just didn't want to put it down once I started reading. I can't wait for the sequel, K-pop Revolution, out next spring!