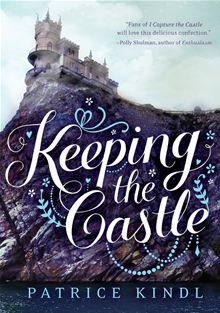 Keeping the Castle
By Patrice Kindl Source
Library
Published by
Viking Children's Books
on June 14, 2012
Rating:

Seventeen-year-old Althea is the sole support of her entire family, and she must marry well. But there are few wealthy suitors--or suitors of any kind--in their small Yorkshire town of Lesser Hoo. Then, the young and attractive (and very rich) Lord Boring arrives, and Althea sets her plans in motion. There's only one problem; his friend and business manager Mr. Fredericks keeps getting in the way. And, as it turns out, Fredericks has his own set of plans . . .
I borrowed this from the library the other day and read it quickly. It's a small book, and I love the cover!
The dust jacket says this book is for fans of I Capture the Castle and describes it as that book mixed with Pride and Prejudice – I must say, I agree! I love I Capture the Castle, and I loved this book! It was a very fun, easy read.
Althea lives with her mother, younger brother, and two step-sisters in the family's crumbling castle, which they can barely afford to maintain. They depend on the limited wealth of her stingy step-sisters to keep things together. Althea knows she is expected to marry a wealthy husband, but she competes with her step-sisters for the affections of Lord Boring, their handsome, wealthy neighbour who arrives in Little Hoo one day. But is he really the man for her…
I loved the cast of characters in this book. Althea is feisty, proud, and strong-willed; her mother is kind and patient; Mr. Fredericks is so oblivious at times that it made me laugh out loud while reading on my lunch break!
I enjoyed the banter, the romance, and the nice, happy ending for all involved. I loved reading about the rules of society back then and the necessity of keeping up appearances (although I'm happy to be living in this day and age instead!), and for its charm and humour, I definitely recommend this little book!