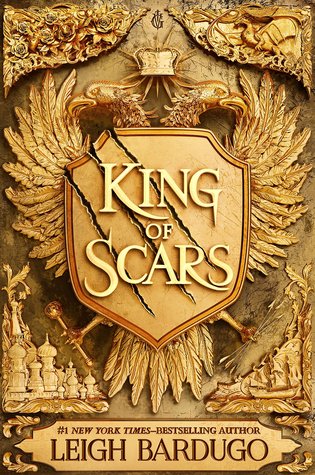 King of Scars
By Leigh Bardugo Series:
Nikolai #1
Source
Purchased
Published by
Imprint
on January 29, 2019
Rating:

Nikolai Lantsov has always had a gift for the impossible. No one knows what he endured in his country's bloody civil war—and he intends to keep it that way. Now, as enemies gather at his weakened borders, the young king must find a way to refill Ravka's coffers, forge new alliances, and stop a rising threat to the once-great Grisha Army.

Yet with every day a dark magic within him grows stronger, threatening to destroy all he has built. With the help of a young monk and a legendary Grisha Squaller, Nikolai will journey to the places in Ravka where the deepest magic survives to vanquish the terrible legacy inside him. He will risk everything to save his country and himself. But some secrets aren't meant to stay buried—and some wounds aren't meant to heal.
I was so excited to read this book. I love Leigh Bardugo's Grishaverse books (the Grisha trilogy, and the Six of Crows duology). When I learned that Leigh Bardugo was writing a new duology starring Nikolai, I pre-ordered this as soon as I could!
I was really excited to read this when my copy arrived, but I was also kind of intimidated by its size. This is a big book, and I found that I couldn't really read it unless I had a lot of time to devote to it. It wasn't the kind of book that I could pick up and read a few pages of here and there whenever I had a spare few minutes.
I really loved being back in this world (even if I couldn't quite remember events from earlier books and had to do some Googling to refresh my memory). Leigh Bardguo's writing is so lovely, and the way she weaves in characters and events from the rest of this series was really impressive.
While much of this story follows Nikolai and Zoya, there was also a separate-but-connected plot centred around Nina, who I loved in the Six of Crows books. But I have to admit, when the story strayed from Nikolai and Zoya, I could feel my interest waning. That disappointed me because I really love Nina and I wanted to love her part of the story as much as I loved the rest of it, but I think I found the Nikolai/Zoya story so much more exciting and interesting that anything that took me away from it distressed me (with the exception of what was happening with View Spoiler » Isaak, Genya, David, etc. back in Ravka – I loved that part). « Hide Spoiler
I loved this book, and the ending has me SO EXCITED for the next book in the duology!